The Lamborghini Sian is impressive to look at. More importantly, is what powers this supercar. The Sian contains a hybrid powertrain equipped with supercapacitors. Let's get the first look at this new Lamborghini supercar.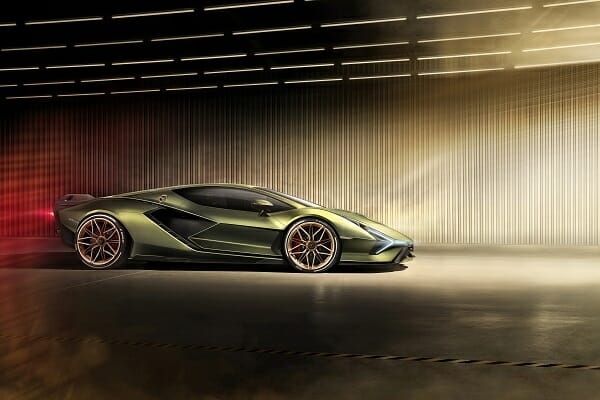 Supercapacitors
Supercapacitors are different than electrochemical batteries. In general, they are very efficient but don't save enough energy to power something as energy-draining as an electric car.
The Lamborghini Sian is using supercapacitors now in a hybrid engine. As opposed to a lithium-ion battery, this hybrid system offers a unique power system.
The hybrid supercapacitor engine stores more energy and is lighter than "older" battery systems.
Engine Specifications and Performance
The Sian comes equipped with a V12 engine, outputting a whopping 819 horsepower. It claims to have a top speed of more than 220 mph.
This makes it one of the most powerful cars in the world today. It can accelerate from 0 to 60 mph in less than 2.8 seconds. The handling has been enhanced compared to the Lamborghini Aventador SVJ. Its traction force has been upgraded. Additionally, the acceleration force has been uniformly improved. This means that the car will continue to accelerate aggressively through all gears.
Interior Features
The new Sian looks like a car from the future. It is similar to some of its concept cars, but it also borrows styling from the Terzo Milennio line. The car's low profile works across all Lamborghinis,, including the Sian.
There is a digital instrument cluster in front of the driver. A high-tech infotainment system sits in the center console. The seats have a Poltrona Frau leather construction.
Final Thoughts
Sian means "flash" in Bolognese. This is a reference to the electric vehicle push that is in Lamborghini's future. The Sian is simply a beast, and it looks like it will make quite an impact.
Speaking of Lamborghinis, have you checked out the contestant driving one in Hyperdrive? I've watched the series and found it thrilling, but I won't spoil any details for you.