Volvo and New York City's Sanitation Department have teamed up to give a trial run to an ambitious garbage truck–the Mack Electric LR. Part of New York City's more massive attempt to become carbon neutral, this Mack vehicle is a fully electric vehicle (EV). This truck picks up trash in more sustainable ways. It's zero-emissions status and quiet electric design reduce both environmental and noise pollution, all with a fresh trash truck design.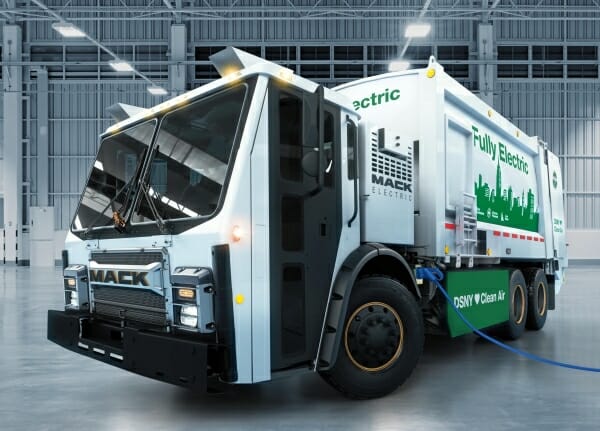 Mack Electric LR
Sanitation departments and trash trucks clean up our cities. Ironically, however, such operations create tons of carbon emissions. There's also an increase in landfills just to get last nights spoiled leftovers out of our kitchen trash bins.
Diesel trash trucks get laughably low miles per gallon, causing other environmental pollution while cleaning up our home environments. The Mack Electric LR solves that, providing electric trash pick-up with zero emissions, significantly reducing the carbon footprint of sanitation departments which deploy the trucks. It's also quiet. Really quiet.
The truck won't bumble down streets with loud diesel creaks and brakes. It moves smoothly and quietly, allowing sanitation companies to extend or change the hours which they run the garbage trucks, reducing traffic during peak driving hours.
As for specs, four lithium batteries power the truck up to 600V, with two AC motors and a two-speed powershift transmission. The truck is also built to require less maintenance than its diesel counterparts, increasing the time spent cleaning the city and decreasing the time spent working on the truck.
The Mack provides a more comfortable experience for drivers and sanitation workers. It's got a sleek exterior design with an extended cab. It features new seat positions and adjustable knee bolsters. Plus, it comes equipped with armrests for added comfort and support.
Future of Business
Currently, New York City will run a single truck, looking to expand the fleet if the pilot goes well.
We continue to see more advances to electric vehicles in all aspects of business. Even Freightliner plans to release some electric trucks soon.