Introducing the Mercedes-Benz EQC. It's the first all-electric crossover from the auto giant. It joins the Jaguar E-Pace and Tesla Model X in hopes of dominating the popular electric crossover segment.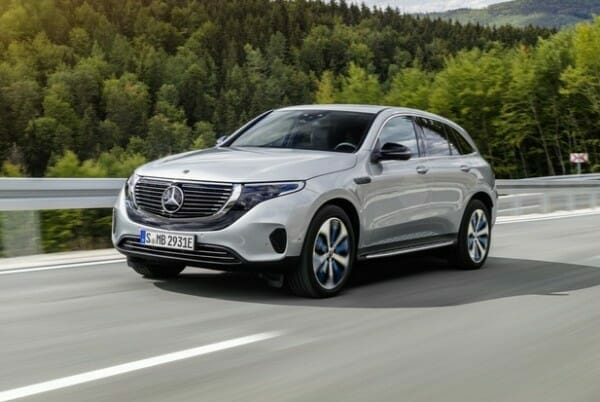 First Look at the Mercedes-Benz EQC
We won't see this model until 2020, but you won't miss it when it debuts either. This crossover is pure luxury that screams, "Mercedes." The traditional grille is affixed to its black-panel nose. During the night, there's an uninterrupted LED light band that extends from side to side on the front end. With it's sporty, stretched silhouette, it commands attention on the road.
There are transmission and motor components on the vehicle at each axle. The front motor drivetrain optimizes the efficiency to handle your everyday driving. The rear drivetrain gives the crossover some additional torque if needed. The rear-drive system kicks in during sharp acceleration, bad weather or low-traction situations. Both of these systems combine to offer this Mercedes 402 hp with 564 lb-ft of torque.
Energy-Saving Modes
The 80-kWh lithium-ion battery doesn't disappoint. Plus, there are five different driving modes available: Sport, Comfort, Eco, Max Range, and Individual. When driving in the Individual model, the driver has power over all the responses.
During Max Range or Eco, the accelerator pedal vibrates to help the driver conserve power. In fact, the traffic sign recognition, radar, stereo camera and navigation data all work together to prompt the driver to lift their foot off the accelerator when a road section has a lower speed limit. With these energy-saving modes in play, the range might be as much as 279 miles on one charge.
The manufacturer decided to go with the EQ name because it stands for "electric intelligence." We'll keep you alerted to any new news regarding the Mercedes-Benz EQC so you can prepare to give this electric crossover a try for yourself.
Want to see more exciting news from Mercedes? Don't forget to check out the 2020 Mercedes-Benz GLE Crossover as well.