Scooters. They are small, affordable, and are perfect for shorter commutes. Don't believe that electric scooters can have such a big impact? Let's take a first look at the all-new MIKU MAX electric scooter. Prices are listed from $600 to $1000 online.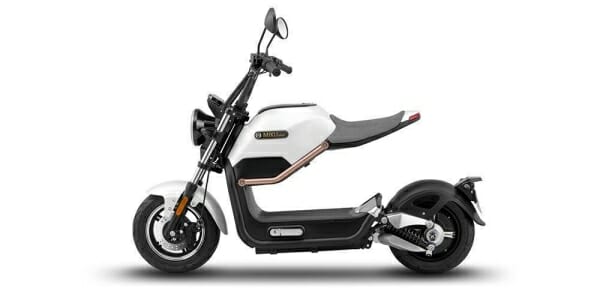 First Look at MIKU MAX electric scooter
Much like the auto industry, all electric seems to be the direction that most scooter companies are headed. So what makes the MIKU MAX a worthy competitor in the scooter industry, electric or not? First off, its looks.
It is quite possibly the most unique looking electric scooter on the market. The intentional C shape of this scooter creates a ton of open space. This gives the rider an ability to store a number of oddly shaped things.
Until now, storage on scooters has been limited to small and restrictive compartments.
You may notice some odes to the motorcycle when you look at the gas tank shape on top. This electric scooter also has foot pegs and a modern take on the vintage motorcycle headlight.
The positioning of this scooter also feels more like a sporty motorcycle with the handlebar location and seat angle.
Specifications
So, let's get into some specs of this unique electric powered scooter. Here is what its functionality looks like:
Range: 60 km or 37 miles

Top speed: 45 km/h or 28 mph

Charge time: 4 hours

Weight: 79 kg or 174 lb

Load capacity: 220 lb or 100 kg

Climbing angle: 21º
The top speed and range make it clear what this scooter is intended for, commuting and playing. This scooter has a nice weight at 174 pounds that creates a better and safer center of gravity.
Now let's take a look at the more mechanical specs of this electric motorcycle-like scooter.
Motor: 800 W Bosch hub motor in the rear

Battery: 60V 20Ah or 1.2 kWh removable Li-ion battery

Brakes: hydraulic disc and rear motor regenerative braking

Tires: 3.0 x 10″

Suspension: front suspension fork and rear dual shock suspension
A very notable feature here is the Bosch regenerative rear motor that can increase efficiency from 5 to 20% while braking.
While a smaller motor doesn't allow for very fast speeds, it gives this scooter a little more pep off the line. This makes city riding and maneuvering that much more fun.
Our Take
What we've noticed in today's world is that if a company wants to disrupt an industry and make something electric; it has to be just as good if not better.
While the range of the MIKU MAX is a little bit small, for a lot of people this scooter will serve them very well.  
All in all, this is a very capable and utilitarian electric scooter. Take it to grab a case of your favorite beverage or to your local hangout spot. This scooter doesn't have a ton of features on purpose, so it tends to cut through the clutter.  It creates a fun and lively electric scooter experience.
If you are a fan of electric scooters, don't forget to read our post about the Honda Electric CRF450 Dirt Bike & Scooter.