For years, there has been talk of a Jeep Wrangler Diesel model. It looks like the 2020 Jeep Wrangler Diesel will be that model. The diesel Wrangler should be here by the end of 2020, and it looks tough.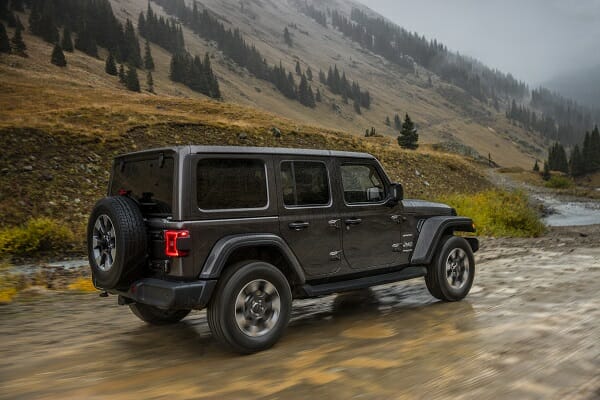 Engine Specifications
The 2020 Jeep Wrangler diesel offers a 3.0L turbodiesel V6 and is only available on the four-door model. Unfortunately for some, the EcoDiesel will only be available on the Wrangler Unlimited. However, the powerful engine comes on each trim level. The engine will output 260 horsepower and a meaty 442 lb-ft. of torque. This is close to the specifications offered from the newest Ram 1500 EcoDiesel but slightly less torquey. The EcoDiesel will be provided in conventional or eTorque hybrid options, so there's plenty of selection.
Diesel vs. Gasoline Engines
The standard Jeep Wrangler engine offers a turbocharged inline-four 2.0L, with an output of 270 horsepower and 295 lb-ft. of torque. The naturally-aspirated 3.6L V6 puts out 285 horsepower and 260 lb-ft. of torque. 
Other Features
The 2020 Jeep diesel model has all-wheel drive and an eight-speed automatic transmission. It will also include an engine start-stop system. There will be several differential configurations as options. In addition, fuel economy is greatly improved. As of now, the 2.0L inline-four engine offers 21 mpg, while the 3.6L V6 allows 20 mpg. Expect a much-improved range from the EcoDiesel.
Is the 2020 Jeep Wrangler Diesel Right for You?
We have all been waiting for this day to arrive. With significant improvements in engine performance and fuel economy, the EcoDiesel should be a big upgrade from the standard Wrangler. We expect a notable increase in the sales price on the diesel version, which is one downside. While restricted at first to just the Wrangler Unlimited, the EcoDiesel should soon expand to other Wrangler models.
What do you think about this new diesel-powered Wrangler? Is this something you could see yourself driving?