Nitrogen in car tires? It sounds like a strange idea, even unsafe, radically changing the type of gas that you put in car tires. Then, you remember that the standard, good old fashioned "air" that we put in our tires is already like 80 percent nitrogen (rounding a bit here).
Choosing to go pure nitrogen is going to have a few benefits. It helps you stabilize tire pressure and reduce humidity for starters. This means fewer maintenance costs. There's also less wear and tear on your tires (from pressure swings) and rims (from moisture).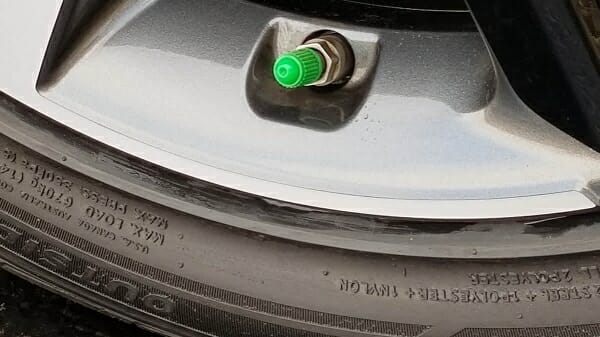 Nitrogen in Car Tires – Making the Right Choice
Pure nitrogen is a bit less mobile than the standard 80 percent nitrogen and 20 percent oxygen. The pure nitrogen has less of a tendency to mix with the outside air. It's less likely to move through the rubber and change the pressure of your tires.
This means that your tire pressure is likely to remain more stable for extended periods. Nitrogen also reacts less to temperature, reducing the pressure swings that occur naturally throughout the day when the sun cooks your tires on asphalt or the cold evening condenses them while parked.
As the seasons change from summer to winter, the temperature difference can cause pressure changes which wear on your tires. Also, driving for long stretches causes the tires to heat up. Nitrogen reduces the number of pressure changes that occur as a result of these different weather, temperature, and driving factors.
Water in Tires?
You want air in your tires. You definitely don't want water in your tires. It changes the density, damages the part where the tire meets the rim and allows more pressure swings. When you fill a passenger car with nitrogen, it involves removing the air already in the tire. Then, you fill it with nitrogen and repeat this process a few times to reduce the amount of oxygen that will mix with your pure nitrogen fill.
Although nitrogen doesn't necessarily prevent water, it does dry out your tires. This removes any water and humidity that accumulated from condensation during normal wear and tear. This might be especially helpful in the summer months or if you live in a really humid climate.

Final Verdict
The most critical factor for safety and maintenance is tire pressure, no matter what gas you use. It doesn't matter if you have air or nitrogen if you're driving on under or overinflated tires! It's unsafe and not cost effective either way.
While nitrogen stays in your tires better and resists changes for longer periods of time, it still needs to be checked regularly to ensure safe driving conditions. If you want to move from air to nitrogen, you'll have to fill and refill a few times to get that ideal pure nitrogen inflation.
If you already have nitrogen in your tires, it's also safe to bring up the pressure with good old fashioned air. Pure nitrogen gives you a few benefits, but plain air mixes just fine with nitrogen. Air is already 80 percent nitrogen, so you just need to decide what to do with the final 20 percent!