General Motors wants its Chevrolet Suburban to be the Official Vehicle of Texas. Supposedly, Texans love GM's Suburban. Change.org has a petition that GM set up. According to that petition, a Suburban is driven out of a Texas dealer's parking lot every 90 seconds. Close to 200,000 Suburbans are owned in Texas, plus 50% of all the top Suburban dealers in the US are there as well. That is a lot of dealers.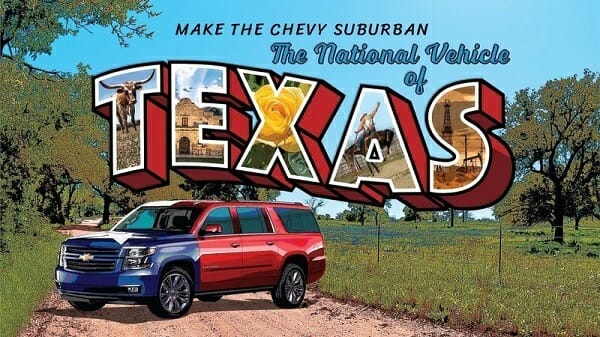 Is the Suburban Worthy as the Official Vehicle of Texas?
So we know Texans love the Suburban, considering that it is large and can easily fit 8 people. This is not the first time Texans have favored this vehicle. In 1986 it earned the title National Car of Texas.
The Suburban will turn 85 this year. That will make it the longest-running nameplate to be in constant production ever. GM wanted to do something big for the occasion. As everyone knows, if you want something to be big, it has to be from Texas.
The petition on Change.org has had a little over 430 signings so far. It's unclear where GM wanted to be at this point. The number of sales doesn't line up with how many signings there have been. However, the petition is only a week old and we are not sure that a lot of people know about it yet.
What we know is that this next-generation Suburban will feature an all-new independent rear suspension and should launch in late December. Furthermore, we expect it to feature the same engine it had last year, which means it will have a 6.2-L V8.
Will the Suburban Take Over?
Do you think the Chevy Suburban will win the title, Official Car of Texas? If you would like to help the Suburban win, you can sign the petition here. If not, leave us a comment below and tell us what vehicle you would like to see win.
Have you seen that GM is also adding Amazon Alexa to their vehicles?