Just last week, Philadelphia introduced 25 all-electric buses to the city's transportation fleet. These Philadelphia electric buses create the largest zero-emission fleet on the East Coast. Let's look closer at what the city is doing and what it means for commuters.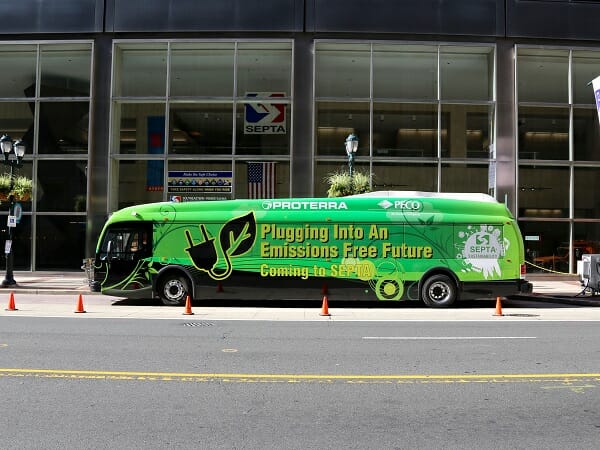 Philadelphia Electric Buses
The City of Brotherly Love debuted 25 Proterra electric buses purchased with funding. The city used the federal Low or No Emission Vehicle Program plus PA Act 89 to complete the purchase.
SEPTA (Southeastern Pennsylvania Transportation Authority) plans to use these buses on two routes. Because the city once used trackless trolleys, it's returning to its roots with zero-emission vehicles.
With these 25 e-buses and 38 trackless trolleys, SEPTA can boast of the largest zero-emission fleet on the East Coast. Still, it's probable that title won't stand for long. New York City currently has 10 electric buses, but they plan to increase that to 65 by the end of this year. In the next five years, they project 500 electric-powered buses in the fleet.
SEPTA also plans to add more next year. The 2020 plan projects over 1,000 hybrid diesel-electric buses, encompassing 95% of the total system.
Where Do We Go From Here?
With cities beginning to compete against one another, the consumer (and environment) become the winner. Even in Toronto, we see the city introducing 60 electric buses for 2020. It's exciting to see all the changes coming to the country and we like seeing cities taking the technology seriously.
The future continues moving toward EV and it only makes sense for the large cities around the nation to hop on board. What does your city do to promote greener transportation? Let us know your thoughts in the comments.
If you enjoy electric vehicle news, make sure you also check out what New York City is doing with the Mack Electric LR Garbage Truck.