There is a new Ram in town. The Ram 1500 Night Edition looks intimidating and powerful. It also will offer many more features than previous models. The reason for the Night Edition name is the theme of its appearance. It comes with black wheels, black grille and black accents throughout its design features. Even the headlights and taillights have dark bezels to finish off the overall shadowy theme. The Night Edition will be offered on the Big Horn and Laramie trims.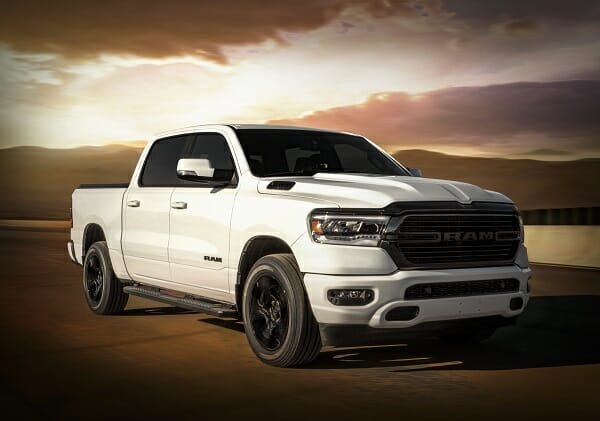 Engine Specifications
The Ram Rebel, in which the Night Edition is available, is packed with power. It will have the third-generation EcoDiesel powertrain. It will offer a 3.0L V6, which will boast 480lb-ft. of torque and 12,560-pound towing capacity. Fuel capacity improves over previous Ram models. It should continue to be a powerhouse off-road, as well.
Interior Features
There will be extensive improvements to the interior of the Ram 1500. Look for a wireless charging system. Additionally, heated rear seats show up in this truck. The driver's seat will be a 12-way power seat. On top of that, safety features will be upgraded. This includes Adaptive Cruise Control with powerful new safeguards that help drivers avoid rear-ending the person in front of them.
There will also be Lane Departure Warnings, to help notify drivers if they are drifting across lane lines. Finally, the Ram will come with automatic high-beams for night driving.
Want a 2020 Ram 1500 Night Edition?
This Ram looks like a mean truck. Prices remain reasonable. We expect to see it similar to the 2019 Ram model. Beyond the stylish enhancements, the engine will also be upgraded. With already capable off-road performance, the new Night Edition looks like a solid extension to the Ram lineup. What do you think? Is this a truck you could see yourself driving or don't you see what all the hype is about?