Ram has a new color theme available, and we've got your first look. We've seen this before on the 2017 Ram Rebel which debuted during the 2016 Los Angeles Auto Show. Now, we anticipate the arrival of the Ram Power Wagon Mojave Sand which puts these colors on the Heavy Duty truck for the first time. Unfortunately, there's only going to be 1,500 of this Mojave Sand limited edition produced for the 2018 Power Wagon, so there's not a large supply available.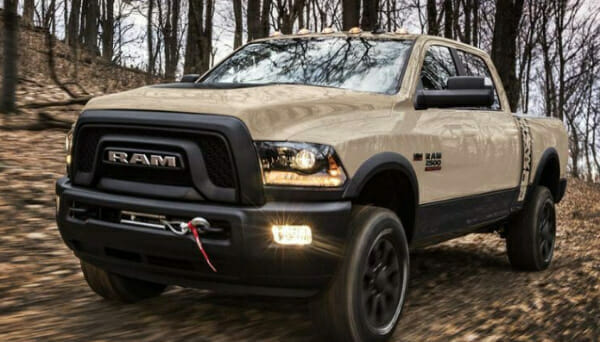 2018 Ram Power Wagon Mojave Sand
This limited edition beauty uses contrasting black graphics and details which provide a desert appeal to the truck. Because the truck loudly announces POWER WAGON on the end of its bed, you won't need to worry about onlookers confusing it with the Ram Rebel featuring the same color. It also rides higher than the Rebel does, giving it a more authoritative look.
The Ram Power Wagon Mojave Sand now comes with 33-inch Goodyear tires set on brand-new black wheels. On top of that, the inside is completely black and filled with the features from the Heavy Duty Luxury Group. This gives drivers access to an overhead console and LED bed lights as well as many other high-class amenities.
Blown Away by the Power
Don't just look at the magnificence of this truck – it's a beast! Below the stylish exterior, it's a 2500 HD 4×4 Crew Cab powered by a 6.4-liter HEMI V8 that provides 410 horsepower.
The suspension kit lifts the truck two inches, offering 14.3 inches of total ground clearance. There's also an electrically disconnecting front sway bar. In addition, it comes with locking diffs in the rear and front plus a hefty 12,000 lb winch. This should suffice if you decide to drive in the Mojave Desert or beyond.
We anticipate the arrival of the 2018 Ram Power Wagon Mojave Sand limited edition in the final quarter of the year. This package does add almost $800 to the price, meaning you're looking at over $55,000 as a starting price.