We've got a first look at the upcoming Ram Rebel TRX. Keep in mind that many of the details we received about the truck are unconfirmed, at this time. But, a lot of what we've learned makes sense and is worth talking about.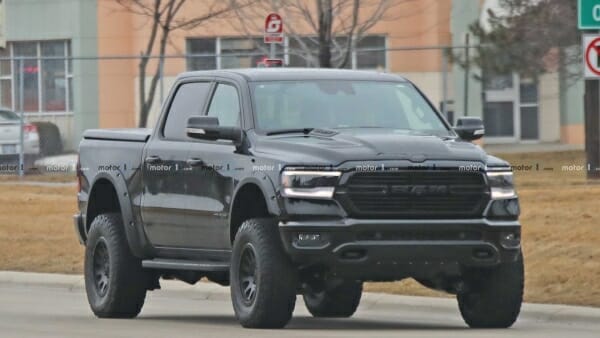 Ram Rebel TRX – First Look
We had the chance to look at some Rebel TRX spy photos last week. Then, the details followed. The test vehicles come from a Detroit engineering firm that has a history of producing prototypes. This isn't an unusual practice for many automakers. Even Ford contracts another company for the GT.
As of right now, there are 40 prototypes available. 30 of them are black and another 10 are white. One truck features a Demon engine while all the rest use a Hellcat engine. The base model is slotted to contain a 7.0-liter V8, but that engine isn't in any of the prototypes.
All of the test subjects also contain a ten-speed automatic transmission. Since the Ram 2500 was the last with a manual transmission, this makes sense.
The ram-air induction system is classified as "Viper-style" and allows as much power as possible. It also comes equipped with dual Bilstein shocks at each corner to take on the Fox internal bypass shocks on the Raptor. Furthermore, the TRX comes with ARB Air Lockers on both the front and rear axles. These utilize pressurized air for maximum traction through locking the axles.
One of the final touches on this new Ram truck is the eight lugs in the back plus six lugs in the front.
More Info Coming Soon
That's all we know right now, but we are waiting for more details. As soon as we know anything else regarding the TRX, you will be the first to know. Availability, pricing and more details should all be leaked very soon.