There's been a lot of hype around here regarding the Rivian R1T electric truck, but we've received even more exciting news recently. It appears the startup company plans to release a camper version of the truck, and it comes with some pretty cool features. Let's grab a closer look at the Rivian R1T camper model.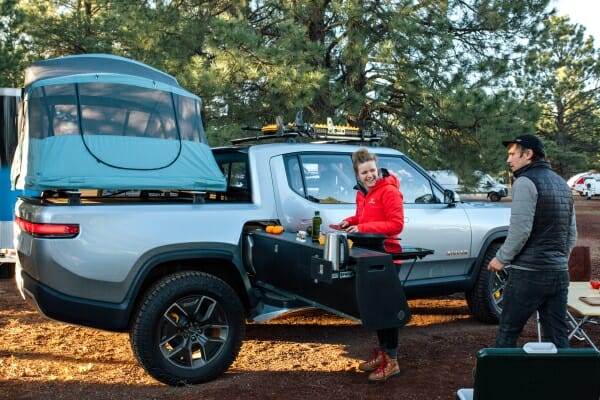 Rivian R1T Camper Model
Rivian doesn't just want to take things to a new level with trucks, they want to be the go-to company for adventure vehicles. What's mindblowing is that the battery pack provides 180 kWh of power and offers a 400-mile range. This allows you to go on some pretty long excursions.
On top of that, the company has invested time on a few modular box systems. These offer several options to owners. Now, we got a glimpse of the camper configuration at the Overland Expo.
Sure, your eyes might first see the bed tent, but that's not the coolest part. What makes the R1T genuinely stand out is that storage tunnel that resides between the cabin and the bed. That is on all models, but this specific one also features a new camping kitchen system.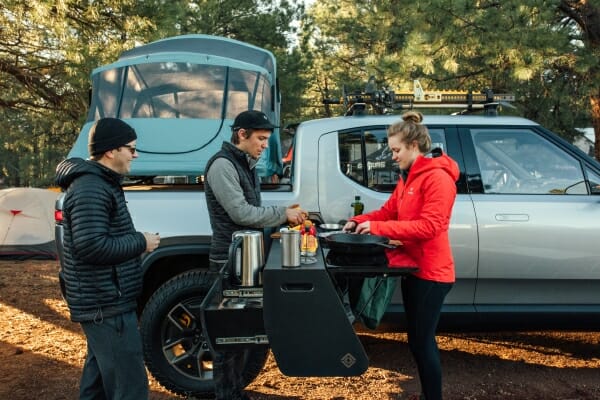 To utilize all the space in the tunnel, Rivian equipped the system with two induction burners, five gallons of water storage and a sink. This allows you to keep everything with you while exploring the wild. We don't know if this model will ever enter production, but we can certainly hope.
Future of Rivian
The regular R1T goes into production in 2020 and will cost $69k before incentives. We've seen the company receive investments from both Amazon and Ford, which helps to elevate them even higher.
Personally, we would love to drive one and think it's going to be the next hot thing. What do you think?