With around 140 cyclist fatalities and 16,000 cyclist injuries on roads each year, safety is a huge concern for parents when it comes to embarking on family bike rides. Provided that kids are clued up on cycling safety, heading out on bikes can be a fun and safe way for them to burn off some energy. Keep these four safety tips in mind when cycling with children.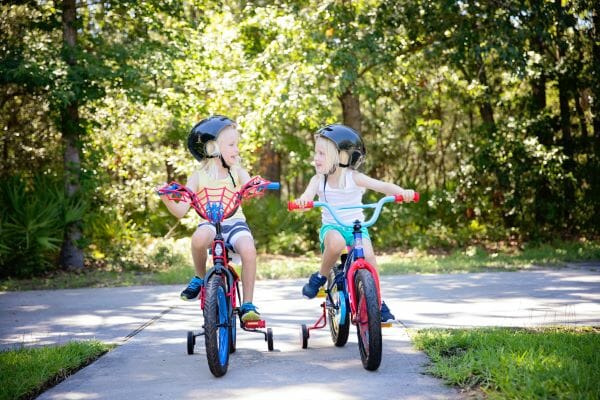 1. Complete a Cycle Training Course
Cycle training courses are a brilliant way to help kids learn the rules of the road and basic safety protocol for cyclists. Look for local cycling programs in your area, some of which may be free.
2. Make Yourselves Visible
Many accidents involving bicycles occur because drivers haven't seen cyclists, so it's important to make yourself and the kids as visible as possible. When cycling during the day it's good practice to wear light colored clothing or, even better, fluorescent clothing. When cycling after dark, reflective clothing is essential in addition to having lights on the bike. Check your local laws to see what's required of your bike.
3. Invest in Well-Fitting Helmets
Injuries to the face and head can be life-threatening, so it's vital that kids always wear a correctly fitted helmet every time they ride their bike. A helmet should sit on the head squarely with the front resting just above the brow so that vision isn't impacted. It should fit snugly and not be so big that it covers the ears. The strap should be tight enough that only two fingers fit between the strap and the chin.
Be sure to replace helmets regularly as children grow, and never be tempted to buy a helmet that they will grow into. When a helmet is too big it can easily move around and fail to provide adequate protection in the event of an accident.
4. Look For Off-Road Routes
No matter how well kids learn about safe positioning on the road when cycling, it's always safer to avoid traffic as much as possible. Plan routes that are entirely off-road or on segregated cycle paths if you can. When this isn't possible, pick out routes with dedicated cycle paths on the roads, as these are safer than riding on roads without any cycle path at all.
Instill Good Safety Habits When Kids are Young
When you prioritize cycling safety with kids, you can instill good habits in them that they'll take forward into their teenage and adult years. Be sure to set a good example and follow safety protocols yourself to reinforce the importance of cycling safety.
You know what would make cycling even more fun? Consider the benefits of having an e-bike to do the work for you.
Polly Pearson is a cycling advocate and mother of two. She is passionate about making cycling safer for everyone, especially children. Polly believes that if we can get more people on bikes, we can make our cities healthier and more sustainable.