If you want to build your automotive blog, we are your full-service company.
Car Blog Writers is the best way to publish high-quality articles to your blog on a regular schedule. There's no reason to come up with ideas, find writers or edit the articles; we do everything from start to finish. We even publish the articles to your WordPress and find images to post.
Our blog writing service has provided countless articles to dealerships, service centers and owners of automotive products across the nation. You can customize your purchase to what fits you; choose a monthly service or buy posts ala-carte.
What We Promise:
Our articles are 100% unique.
They are all SEO-optimized.
Everyone that works with us is proficient in the English language and based in the United States.
Our turn-around time is faster than any other provider.
100% money-back guarantee. If you don't like the posts, we make it right or give you your money back! No questions asked.
How to Order Blog Writing Services:
Step 1 – Contact us and place your order or scroll down to see our pre-bundled packages.
Step 2 – Approve a topic. We can offer suggestions or you can give us your own. We take the time to research the topic for SEO to ensure it reaches your target audience.
Step 3 – Post it to your blog. We can provide the article to you in HTML format for posting or you can allow us to optimize it ourselves through your WordPress. You can be as hands-on or hands-off as you desire.
All of Our Packages Include:
High-quality articles
Topic creation
Native English writers with extensive experience in the automotive field
SEO optimization
Unlimited revisions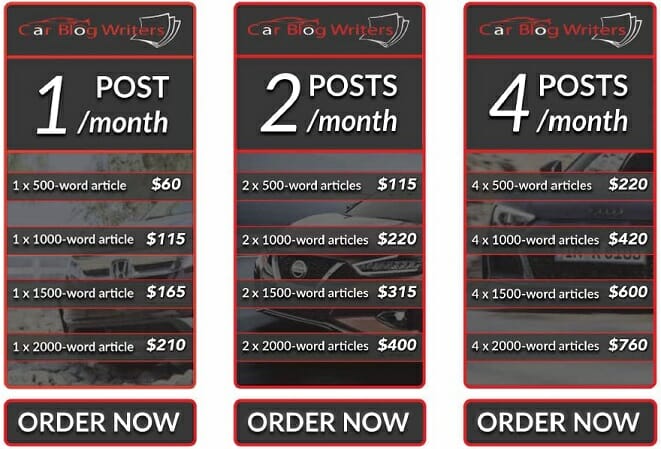 To try us out before purchasing a package, simply ask for the introductory special and we'll gladly offer you one 300-word article for free!