The Super 73-S1 electric bicycle is the clear leader in the electric bike industry. It has all the elements you want in a bicycle, while not adding unnecessary features. Let's take a first look at the Super 73-S1.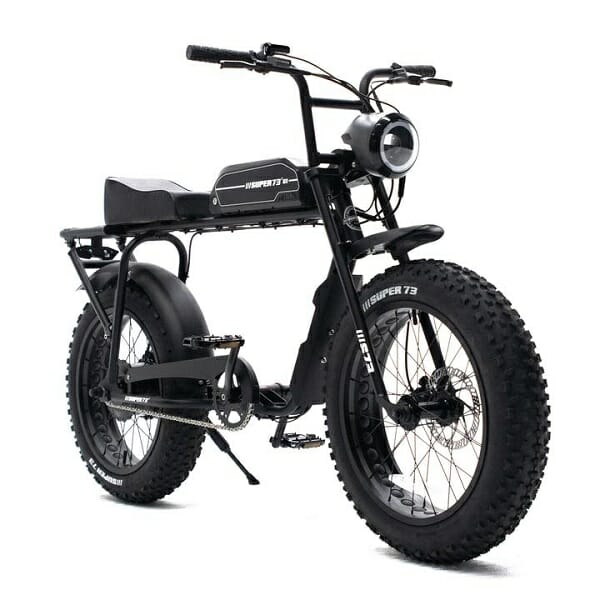 Super 73-S1 Electric Bicycle Specs
It has a smooth, efficient design with no shifters, a sleek frame, and a basic functional seat.
The 73-S1 performs very well on the street and off the road. It has a beastly rear motor, climbs hills powerfully and it is comfortable as it glides down the street. The designers gave it 20-inch wheels, which are smaller than average. This helps the bike handle and respond quickly and powers up the rear wheel torque. Tires come in two options: knobby or street tires.
The 73-S1 can reach a top speed of 20-25 miles per hour.
It comes equipped with hydraulic disc brakes, which don't need to be adjusted. These brakes are ideal for sticky situations.
The seat that comes standard is a wedge. There is an option to upgrade to the bench seat, and many riders would prefer this choice. The wedge seat can accommodate a wider range of riders.
Unfortunately, there is no suspension in the Super 73-S1. This makes major bumps and holes noticeable as you are riding.
The bike does come with a large halo headlight, which is very powerful. It also comes with a double kickstand, giving the bike a lot of stability. The included charger is efficient: a high-power, 5A solid state charger.
The cost of the Super 73-S1 is around $2,200, which is in the middle of the pack. There are other budget bikes you could buy, but you will get what you pay for. On the other hand, there are some much pricier bikes that just aren't as good as this one. The Super 73-S1 rises above all the others.
Make sure you also check out the Bosch 2020 eBike & Batteries.