LEGO just announced the addition of a 1974 Porsche 911 Turbo 3.0 to the Speed of Champions miniature lineup. If you haven't played with these cars yet, you are missing out on the Chevrolet Camaro ZL1, McLaren Senna and a Challenger SRT Demon. There are even some classic cars in the lineup like the 1970 Dodge Charger R/T and 1968 Ford Mustang Fastback.
The addition of the Porsche 911 Turbo 3.0 just adds more excitement to the brand.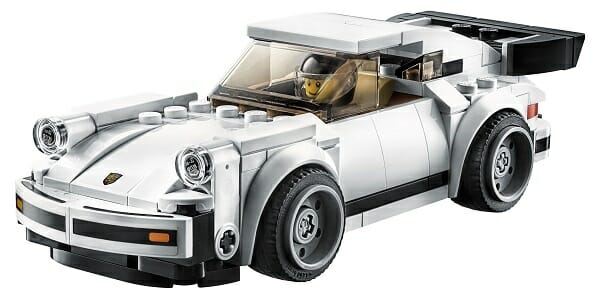 1974 Porsche 911 Turbo LEGO Set
This car was better known as a Porsche 930. It was the first turbocharged Porsche production model. Initially, it debuted during the 1974 Paris Auto Show and grew in popularity quickly. It was fast, for its time but prone to oversteering. It also suffered from a massive case of turbo lag.
The 3.0-liter turbo flat-six pumped out 256 horsepower plus 243 pound-feet of torque. This paired to a four-speed manual transmission. Now, LEGO is going to sell the model for just $14.99. Have you ever been able to buy a Porsche for under $15?
The 180-piece LEGO set comes in all-white and has some authentic details. Notice the wide-brimmed fenders and unique rear spoiler. The windshield is removable for easy placement of the driver. Strangely enough, he sits in the middle instead of the typical positioning off to the left.
In total, the model measures five-inches long, one-inch tall and two-inches wide. It comes complete with three plastic cones so you can create a racetrack anywhere. LEGO plans to release the set on August 1st.
Adding This to Your Collection?
Do you plan to add the Porsche model to your growing collection? Maybe you can put it alongside the full-size LEGO Silverado truck we told you about. I have a feeling that my young boys might want to get their hands on the latest model, and I won't complain. I might even have to take it for a little spin.