We've been fans of the 2019 Mazda3 since we first saw its teaser image. After seeing it at the 2018 LA Auto Show, we can't help but get more excited.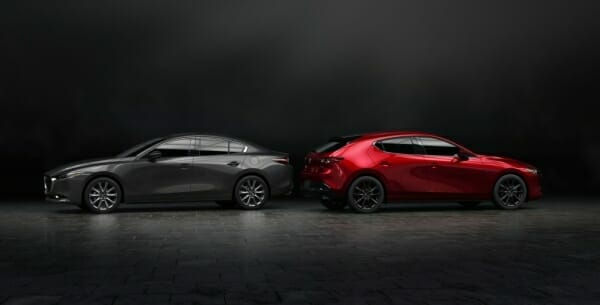 What's So Great about the 2019 Mazda3?
This car was inspired by the Mazda Kai Concept, so there's simply no way the automaker could have gone wrong with the styling. Both the hatchback and sedan feature designs that evolved from their predecessors. Overall, we find ourselves drawn to the hatchback model because it seems to capture the true Kai essence, but that wouldn't stop us from driving the sedan as well.
On top of that, it features a minimalist interior the comes with a sharp-looking dashboard. The competitors are going to have a tough time competing with this in relation to its appeal. It does also have available all-wheel drive. We don't know the exact specs as of yet, but Mazda has confirmed a 1.5-liter, 2.0-liter and 2.5-liter gas engine plus a 1.8-liter diesel. Also, the SkyActiv-X engine will pair with their new M Hybrid system.
SkyActiv-X
If you haven't heard about the SkyActiv-X system, it featured an SCCI (Spark-Controlled Compression Ignition) which combines diesel efficiency with gas-engine performance. In its debut with the Madza3, it will come with front MacPherson struts and a rear torsion beam. This allows the 2019 Mazda3 to turn, accelerate or brake any way it pleases.
Mazda at the LA Auto Show
Mazda is featuring several other automobiles at the show. You can see the Mazda3 plus four more vehicles.
Mazda6 Signature
MX-5 Miata RF Grand Touring
CX-9 Signature
CX-3 Grand Touring
If you haven't made your way to the show yet, now is your chance. Then, you can decide for yourself if you prefer the Mazda3 sedan or hatchback. Stay tuned to Car Blog Writers for more news from LA.