With the 2019 Chevrolet Silverado 1500 implementing some newer technologies, it's interesting to see the numbers released by the EPA. Between the improved efficiency, lightweight construction and computer-designed aerodynamics, let's take a closer look at how the Silverado rated.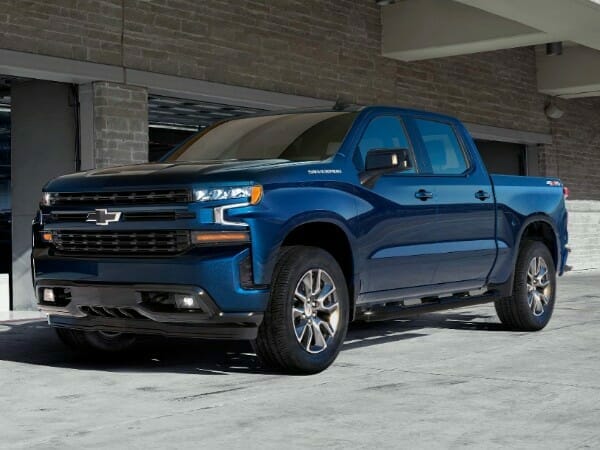 2019 Chevrolet Silverado 1500 EPA Ratings
Chevy replaced the 4.3-liter V6 with a new turbocharged 2.7-liter I4 in some of the trims on the 2019 Chevrolet Silverado. With the rear-wheel-drive configuration and eight-speed automatic transmission, this 2.7-liter truck scored 20 city/23 highway and 21 combined mpg during the testing. It's safe to assume that the 2019 GMC Sierra with the same equipment should receive similar ratings.
Of course, Chevy didn't waste any time pointing out how the city number beat Ford's 3.3-liter V6 engine and matched the Ram 1500 with a mild-hybrid 3.6-liter Pentastar V6. What the automaker failed to mention is that Ram and Ford beat it in highway driving with 25 mpg and they both feature a combined 22 mpg.
Where Chevy Excels
Their turbo engine does provide an exceptional output with 310 horsepower plus 348 lb-ft. of torque. The Ram and Ford can't compete with those number with the Ram coming the closest at 305 horsepower.
In addition, Chevy does offer a nice max payload with a rating of 2,280 pounds. This beats Ram's 2,100-pound rating as well as Ford's 1,990-pound rating when looking at the base engines.
Chevy also offers the 4.3-liter V6 engine on the Work Truck, Custom and Custom Trail Boss. They have higher payload and towing ratings but also weigh more. The LT and RST come standard with the 2.7-liter engine but are available for purchase with the 5.3-liter V8 if you prefer. This motor lowers the city rating significantly but offers better towing ability.
This gives a potential buyer numerous options. If you don't plan to haul anything, then the 2.7-liter turbo is the way to go. It's ideal for anyone that wants a truck for commuting. The best budget-friendly option is the 4.3-liter V6. For those who tow or haul often, you might prefer to consider the 5.3-liter V8 instead.
The bottom line is anyone shopping for a base truck has plenty of options this year. You can choose a high-tech, small-displacement V6 from Ford, a high-torque turbo with the 2019 Chevrolet Silverado 1500 or a mild hybrid model from Ram.
Obviously, Ford doesn't agree that the Chevy Silverado is a competitor based on their new ad. Which one do you think is best?