Fans of Dale Earnhardt Jr. should be thrilled to hear that he will lead the pack next year during the 2019 Daytona 500. In fact, this two-time winner plans to sit behind the wheel of a new 2019 Chevrolet Silverado pace truck. His job is to lead the racers to the green for the 61st event of The Great American Race.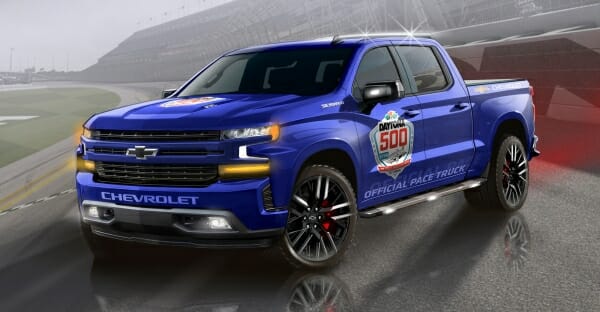 2019 Daytona 500
If this seems odd to you, it should! There's never been a pickup truck pace vehicle in the Daytona 500. Earnhardt Jr. is a personal fan of Chevy trucks which makes this even more exciting for him.
Earnhardt Jr. knows the track well; he won the Daytona 500 in both 2004 and 2014. He also won the July Daytona race twice with four wins under his belt. In the 36 NASCAR Cup Series starts at Daytona, he had four wins, 13 top five finishes plus 19 top tens.
If that's not enough, he earned the Most Popular Driver title for 15 consecutive years.
His love of the sport, long relationship with Chevy and his passion for trucks make him an excellent candidate for this role. Watching the race on Sunday, February 17th should be exciting.
Chevy Silverado
If you've been following the latest Silverado news, you know a lot is going on lately. We just told you how the Silverado 4500, 5500 and 6500 were making their way to dealerships. We've also given you a first look at the 2020 Chevrolet Silverado HD.
Let's take a closer look at the truck leading this NASCAR event. This Silverado pace truck is the strongest and most advanced to date. This truck features a 6.2-liter V8 engine which is paired with a ten-speed automatic transmission. This produces 420 horsepower plus 460 pound-feet of torque.
You may remember that Chevy paced the Daytona 500 before. Seven times they did it with a Camaro and another five involved a Corvette. Will you be watching in February?