The EPA just released the 2019 Ford Ranger mpg numbers and it's official – the Ranger has the best-in-class fuel economy of a gas-powered mid-size pickup. We are actively awaiting its arrival at dealerships. Before it starts selling like hotcakes, Ford gets to do a little bragging.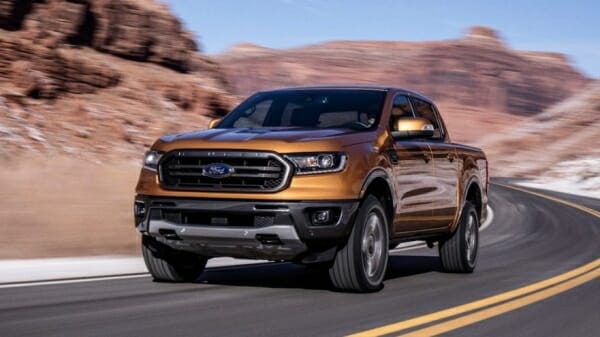 2019 Ford Ranger MPG Numbers
The EPA estimated the fuel economy for the 2019 Ranger and the results might just shock you. With a 2WD configuration and the 2.3-liter turbocharged EcoBoost four-cylinder engine combined with the ten-speed automatic transmission, drivers are looking at 21 mpg city and 26 mpg highway with 23 mpg combined.
That's better than any of the other gas-powered mid-size trucks on the market. It even ties with the Chevrolet Colorado diesel truck for combined mileage numbers. As far as gas-powered options go, the 2WD Tacoma only gets 21 mpg combined while the GMC Canyon and Chevrolet Colorado are looking at 22 mpg combined.
Of course, most truck buyers aren't looking for fuel-efficiency when picking out their latest pickup, but it's an excellent marketing tool that Ford will use. Anywhere they can achieve a bragging point, they will surely use it.
If you want the 2019 Ford Ranger mpg numbers on the 4WD, we have that too! Expect this pickup to get 20 mpg city, 24 mpg highway and 22 mpg combined. Not too shabby – in fact, it's better than any 4WD gas-powered mid-size truck.
Other Highlights of the 2019 Ford Ranger
Ford didn't hesitate to also point out that the Ranger features the best-in-class torque with 310 pound-feet. It's also ranked as the best-in-class towing and payload with 7,500 and 1,860 pounds.
Expect the Ranger to hit the dealerships sometime next month. It will feature a starting price of $25,395. Of course, the higher trims could take that bill up over $40,000, especially if you decide to add some of the 125 aftermarket parts that are available.
Stay connected to Car Blog Writers for the latest news regarding the 2019 Ford Ranger and everything Ford related. We are actively awaiting more news on the Baby Bronco and the Ford Mach-E.