The 2019 Hyundai Kona Electric costs less than the Tesla Model X, but will you be able to get one in your area. Let's take a closer look at this electric SUV.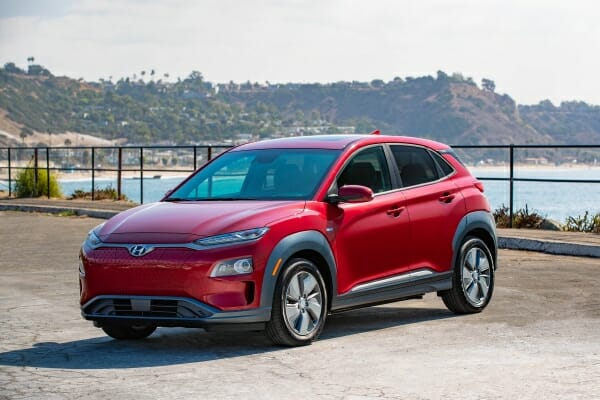 2019 Hyundai Kona Electric
The Tesla Model X will run you about $110,000. For the same price, you could purchase three of the new 2019 Hyundai Kona Electric SUVs. They are just one of the companies attempting to make electric technology affordable for the average consumer.
Aside from that, Hyundai is a reliable company that isn't going anywhere fast. Tesla, on the other hand, is still relatively new and hasn't proven that they are in it for the long haul.
Other than it's drivetrain, the Kona Electric is just like the regular version. It features a long wheelbase, MacPherson strut front suspension and 17-inch alloy wheels standard. It's lightweight, has a strong structure and maximizes safety inside the cabin. Some of the active safety features include Lane Keeping Assist, Forward Collision Avoidance Assist, Driver Attention Warning and High Beam Assist.
It's part of the reason that the 2019 Hyundai Kona was named to the 2019 Consumer Guide Automotive Best Buys list.
More Features of the 2019 Kona Electric
Inside the cabin of this electric SUV, you'll also find some standard tech features. Android Auto, Apple CarPlay, Blue Link LTE connectivity, HD Radio and SiriusXM radio are all standard. There's also a seven-inch color LCD, auxiliary outputs, rear-view monitor and voice recognition included standard.
The Blue Link services are important because they are provided for three years at no cost to drivers. The package includes enhanced safety, remote, guidance and diagnostic services. It also works to provide Google Home, Destination Search by Voice, Remote Start with Climate Control, Car Finder, Remote Door Lock/Unlock, Stolen Vehicle Recovery and Enhanced Roadside Assistance.
Some of the EV-only features include Charge Scheduling, Remote Charge Management, EV Range and EV Power History.
Performance of the EV Kona
The powertrain features a high-efficiency 150kW permanent-magnet synchronous electric motor which runs off a 64kWh lithium-ion. That produces 201 horsepower plus 291 pound-feet of torque. This front-wheel drive vehicle features a liquid-cooled battery system that operates at 356 volts.
The estimated range is 250 miles, so it's not quite as capable as the Model X, but not far behind. In addition, it charges to 80% in only 54 minutes when utilizing a Level-III quick charge.
We expect to see the first 2019 Kona Electric SUVs arriving at the beginning of the new year. Starting prices are just $36,450, but there's also the $7,500 electric vehicle tax credit to consider. The trouble is, this electric SUV is only going to be available in California at first. Later production should include the northeastern and western parts of the country.