We've got your first look at the 2019 Hyundai Veloster N and it's ready to take on the seventh generation of VW's GTI. It is priced slightly higher, but it also comes with 30 more horsepower at 250.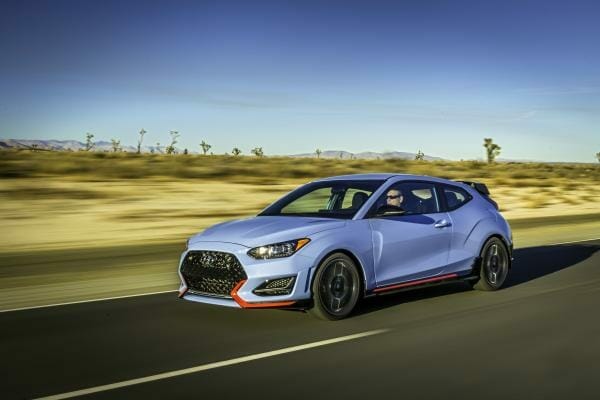 The 2019 Hyundai Veloster N Rocks
If you want to kick things up a notch, make sure you opt for the N Performance Package. This gives you 275 horsepower, a performance exhaust and electronically controlled limited slip. It also features larger brakes plus bigger wheels, but it will cost you an additional $2,100.
The Veloster N only comes with a manual transmission which might hinder the competition with German brands for some. It's possible that the Veloster N is actually targeting some bigger vehicles like the Golf R or Civic Type R instead. It's priced lower than either of these but lacks several things.
First, it doesn't have the visual appeal of a CTR. Second, there's no all-wheel-drive option like the Golf R offers. With that in mind, it's still a great option if you need a car priced under $30,000 with ample performance.
Ready to Get Behind the Wheel
What sets the 2019 Hyundai Veloster N apart from the crowd is the aerodynamics and red accents. They are tastefully done without being obnoxious.
In addition, early testing indicates that the drive is enjoyable and exceeds expectations. Maybe that's because the head of the N Division came from BMW. Albert Biermann was the head of the BMW M development, so there's plenty of hope in store for this new Hyundai.
We are expecting the arrival of the 2019 Hyundai Veloster N to occur any day, so keep your eyes out for them at your local dealerships.
In the meantime, make sure you head to the 2018 LA Auto Show where we'll get our first glimpse at the Hyundai Palisade.