The 2019 Lexus LX Inspiration Series isn't your typical luxury SUV. It demands a higher level of driving experience. Not only does it feature an exhilarating performance, but it's also constructed of high-quality materials. In just a few weeks, the Lexus LS Inspiration will debut at the LA Auto Show.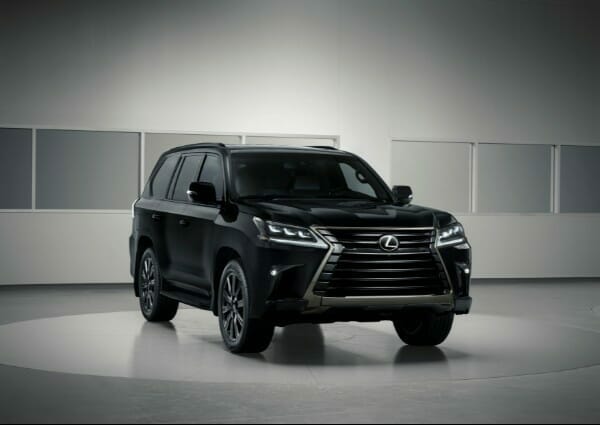 Exclusive 2019 Lexus LX Inspiration Series
The new LX comes complete with a Black Onyx exterior which rides on 21-inch black alloy wheels. In addition, it features a dark chrome surround and black front grille. You'll also find black trim around the headlamps, windows and foglights as well. In the rear of this SUV, there's a continuation of the black appearance. It features some chrome accents around the license plate, back door and taillamps.
This SUV also features the Moonlight White exclusive Semi-Aniline leather trim complete with its black headliner. This further accents the well-thought out exterior. Everything included inside down to the cargo mats and carpet just further accentuate everything this vehicle has going for it.
Standard equipment includes ventilated and heated seats for both the front and second rows. In addition, Lexus's Climate Concierge automatically monitors cabin temperature through four climate zones and then makes necessary adjustments.
They also come with a 19-speaker sound system, rear seat entertainment, a head-up display, leather-trimmed steering wheel and wireless charger.
The Bad News
Of course, you knew there was going to be a downside to all of this. Only 500 customers will own an exclusive 2019 Lexus LX Inspiration Series. On top of that, the starting price is $100,420.
If you are one of the lucky ones, you will enjoy the 5.7-liter V8 engine that produces 383 horsepower. It's also paired with an eight-speed automatic transmission that makes it capable of towing 7,000 pounds. Of course, we don't know too many people that would tow with an expensive $100,000 SUV, but you could if you wanted.
Of course, we will be covering the L.A. Auto Show from November 30th through December 9th. Stick with us at Car Blog Writers for all the latest news and debuts. Speaking of auto shows, did you see the Lexus RC 350 F Sport Cross Country from SEMA?