We're anticipating the arrival of the 2019 Mazda MX-5 Miata, so it seems like a fitting time to share some information with you. This car isn't your average compact hatchback. The RF or Retractable Fastback goes on sale yet this month, plus the drop-top should make it's way to dealerships not too long after. With an upgraded 181 horsepower, this car is something to talk about.
If you're trying to convince someone to purchase a 2019 Mazda MX-5 Miata, here are some facts that might help you out.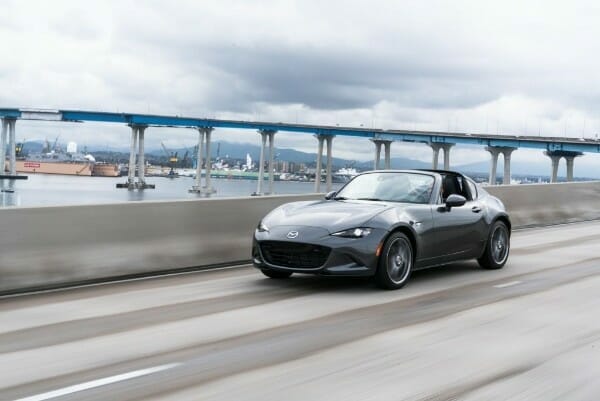 Fact #1 – Pricing Didn't Jump Up Much
Thankfully, the rains which halted Mazda production didn't influence pricing. While we've only gotten our hands on the pricing for the RF, it didn't go up much. At just $90 more, you can own an RF for $33,335. The soft-top sold for $25,295 last year, so we don't expect that number to rise dramatically.
There are some add-ons to be aware of that will make the price jump up slightly.
automatic transmission ($1,075)
Brembo brakes plus BBS wheels ($3,770)
Recaro seats ($900)
i-Activesense safety package ($450)
Fact #2 – It has Plenty of Power
The new 2019 Mazda Miata comes with 17% more horsepower plus an extra three pound-foot of torque. There are several reasons for this upgrade:
Each of the pistons shed 27 grams of weight
Lighter connecting rods
Exhaust manifold inner diameter increased
2.0-liter four-cylinder engine received improved combustion
New fuel injectors
Reconfigured intake ports
Fact #3 – The 2019 Mazda MX-5 Miata RF Features a Fast Opening Hardtop
In just 13 seconds, the hardtop of the Miata MX-5 Miata opens or closes. Plus, it's as simple as pressing a switch to operate.
Fact #4 – There's Plenty of New Equipment
The MX-5 is now offered with a brown or black soft-top. There's also a telescoping steering wheel and rearview camera included on all models. In addition, you have access to the i-Activesense safety option that features Smart City Brake Support, blind-spot monitoring, rear cross-traffic alert and lane-departure warning.
Fact #5 – You Must Have the GT-S Package
If you're going to purchase the 2019 Mazda MX-5 Miata, then you need to invest in the GT-S Package as well. For just $750 more, you attain the front shock tower brace, Bilstein dampers, limited-slip differential. The GT-S also has a hand-painted black roof that was seen on the 2017 RF Launch Edition only.
If you desire a soft-top with the GT-S package, you're still looking at spending less than $30,000 for a brand-new car. For a couple thousand more, you'll have a fantastic compact roadster that makes you feel like a legend. The question is: how long will it be until you buy a new 2019 Mazda Miata?