Ram released their new swing-open tailgate in an effort to compete against GMC. It used to be that we would battle over things like towing capacity or V8 engines, now automakers just want the coolest tailgate. What has the world come to?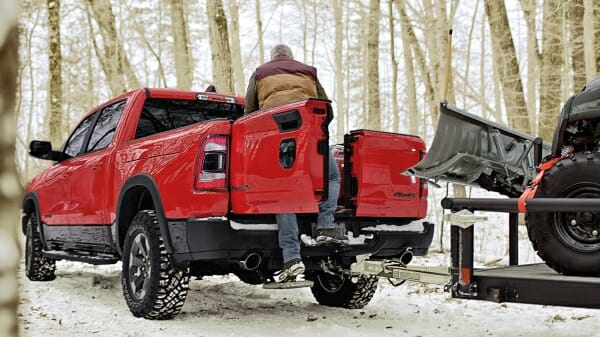 Swing-Open Tailgate
If you remember, it was GMC that started this. Last year, they released the Multi-Pro tailgate. It was capable of six various configurations. In addition, it allows owners to turn their tailgate into a mobile workbench without much effort. At the time, they rubbed it into the faces of Ram. They weren't nice, even a little.
Ram quickly responded letting everyone know they were working on something better. Now we have the swing-open tailgate. There's no fun name for it yet. For now, they are just calling it a multifunction tailgate. They also haven't provided many details about the function. All we can tell is that it opens in a swinging fashion or in four other ways.
To do this, there is a seam in the middle that allows either side to swing independently. You can also lay it down like a regular tailgate, if you are old-fashioned and apparently, not cool. You won't be able to lay each panel down individually because that requires different hinges that Ram couldn't figure out yet.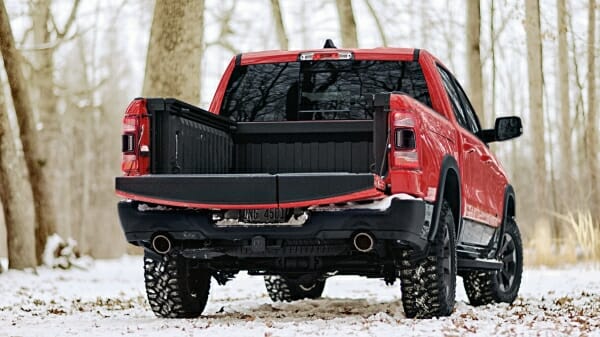 For now, they split 60:40 and open to 88 degrees. You can remotely release them plus they are damped to prevent damage. Ram also included a retractable center-mounted step that allows you to get in the bed easier. Don't forget to add on the RamBox cargo management system that enables you to have saddlebags on both sides of the rails. The storage bins come lockable, weatherproof, drainable and illuminated. They also feature a 115-volt, 400-watt outlet.
Willing to Pay for It?
The new swing-open tailgate is available on all trim levels of the 2019  Ram 1500. We should see it arrive in the second quarter this year. Pricing is only $995, but it will cost another $295 if you want to add that bed step. We don't have any pricing yet on the divider and extender they plan to release, but it probably won't be much more.
Between earning the Motor Trend Truck of the Year award and this exciting news, it's hard not to get thrilled about where the Ram is going. However, it's too bad there's no manual transmission option. Are you planning to buy one? Let us know.