Ask anyone about hybrid vehicles and they'll likely tell you about the Toyota Prius. Even though it wasn't the first sold in the United States, it is one of the more recognized. In fact, over four million have been sold across the world. So, why did it take more than 20 years for Toyota to create an AWD Prius? Take a look at the 2019 Toyota Prius AWD-e.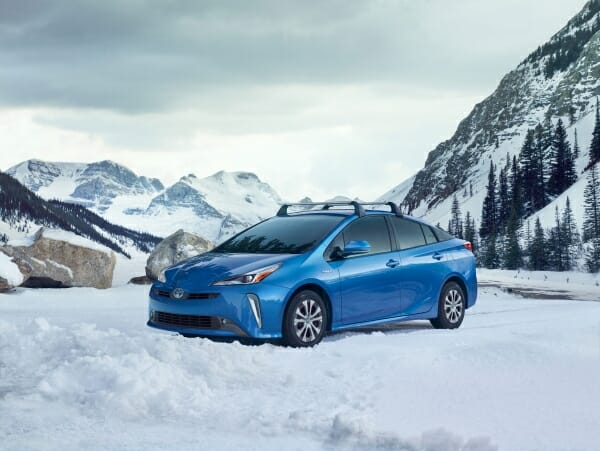 2019 Toyota Prius AWD-e
The FWD lineup of Prius vehicles is fuel efficient and has a purpose, but it's not that exciting to drive. What's surprising is that the 2019 Toyota Prius AWD-e offers a little fun for drivers. This year, the Prius only received a mild refresh so you can expect all of the same technology, including the Toyota Hybrid Synergy Drive system.
The AWD-e also gets a 1.8-liter four-cylinder engine and two motor/generators. This pairs with a continuously variable transmission. All in all, you can expect it to produce 121 horsepower plus 105 lb-ft of torque.
The most significant difference between the front-wheel-drive and all-wheel-drive models is the battery pack. On a standard Prius, you will find a lithium-ion battery while the AWD-e offers a compact Ni-MH that works well in cold weather. In case you didn't figure it out yet, the "e" simply means electric. While this term isn't highly imaginative, it does specifically refer to the independent rear motor. It's used to get the car to six mph and then works intermittently up to 43 mph.
This on-demand system activates when the vehicle notices a change in driving conditions. There are also no magnets in the rear motor which allows for even more fuel efficiency.
Toyota estimates that the Prius will achieve 52/48/50 mpg. That's not too much different from the 54/50/52 on the front-wheel-drive models. Obviously, if you want to save more fuel, you'll prefer the Eco trim over any of them. It is rated at 58/53/56 mpg.
AWD-e For You?
The 2019 Prius comes in several trims and starts at $24,670. If you want to get behind the wheel of a Prius LE AWD-e, expect the starting price to be $27,300. While this makes a great addition to the 2019 Toyota lineup, we can't help but wonder if one of the cheapest electric vehicles wouldn't suit you better?