The 2020 Ford Mustang Shelby GT500 made its appearance! It will feature a minimum of 700 horsepower from its supercharged cross-plane V8 engine. That's paired with a dual-clutch gearbox and is the most powerful street-legal Ford ever produced. If you aren't excited yet, you might not be alive.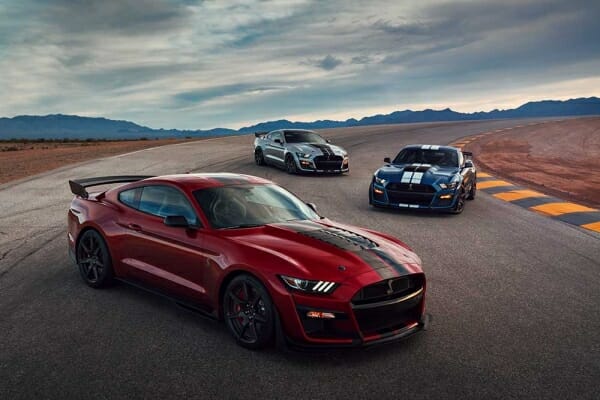 2020 Ford Mustang Shelby GT500
Ford revealed the details during the 2019 Detroit Auto Show. It's their response to the Chevy Camaro ZL1 and Dodge Hellcats. From what we can see, Ford came to play ball. We do know that the quarter-mile time of this car will be under 11 seconds with a 0-60 mph time in the mid-threes.
It comes powered by a 5.2-liter supercharged V8 that works in conjunction with a seven-speed dual clutch transmission. It also has a carbon fiber driveshaft, high-performance Michelin tires, MagneRide dampers and Brembo 16.5-inch rotors. The Mustang Shelby GT500 also has an electronic line-lock to help you with those burnouts, launch control and apps that make tracking performance more natural than ever.
You'll be able to add on the aero kit for a more aggressive-looking front end. This will feature a new front air dam and adjustable carbon fiber spoiler. The Carbon Fiber Track Pack comes with 20-inch carbon wheels, a carbon fiber rear wing and Pilot Sport 4S tires plus Recaro leather and suede seats.
Ready to Drive?
Just imagine yourself sitting behind the wheel of this beast on your daily commute. Thankfully, there's a lot more to it than just performance; it also comes with plenty of creature comforts. You get access to the SYNC 3 infotainment system, 12-inch digital instrument cluster, rear-view camera and a 4G LTE hotspot so you never have to be out of the loop.
It shall be interesting to see how this competes against Chevy and Dodge in the coming years. Who are you rooting for?
If you want all the up to date information from the 2019 Detroit Auto Show, make sure you stay posted to Car Blog Writers.