Everyone wants to have an SUV – there's no question about it. Some people want the smaller, compact crossovers while others are going for the monstrous tanks to cart their family around. The 2020 Hyundai Palisade is closer to the second variety.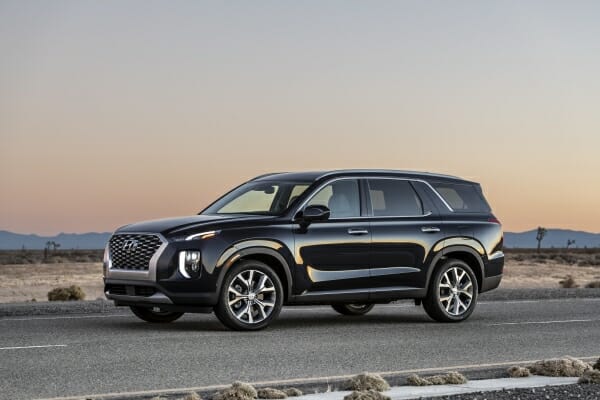 Mid-Size SUV?
Hyundai is referring to the 2020 Palisade as a mid-sized SUV. Really? This beast measures over 16 feet! Let your eyes tell you the truth. It's big, but that also means there's lots of room inside. The biggest thing that Hyundai currently has available is the seven-passenger 2019 Hyundai Santa Fe XL. That makes the Palisade their full-size SUV if you ask us.
In fact, you can fit eight people inside the new Hyundai SUV. There's also available premium-quilted Nappa leather and a smooth wood instrument panel. The second row of seats moves forward to allow for easy access to the back seats. If that's not enough, the rear passengers have access to reclining seats.
If you don't need room for eight, opt instead for the second row of captain's chairs. Families will also enjoy the conversation mirror so the driver can clearly see the rear passengers.
Equipped 2020 Hyundai Palisade SUV
In addition, the Hyundai SUV comes with a Blind View Monitor, 10.25-inch touchscreen, 12.3-inch center cluster, Android Auto and Apple CarPlay. Drivers and passengers will enjoy the Qi wireless charging pad, seven USB outlets and a whopping 16 cupholders. How many drinks will a family of eight need?
For those of you in the north, you might be interested in the Snow Mode. This works with an electronic, variable torque split clutch and the active torque control to regulate torque distribution between the front and rear. It also controls left and right wheel slip, shift patterns and engine torque based on traction levels. In addition to the Snow mode, there's also the Smart, Sport and Normal mode.
There's a 3.8-liter V6 dual-CVVT direct-injection engine in this rig. It produces 291 horsepower and 262 pound-feet of torque. That's paired with an eight-speed auto transmission and either a two-wheel or four-wheel drive configuration.
We don't know pricing yet on this eight-passenger SUV but we should find out soon. Expect it to hit Hyundai dealerships by summer 2019.
Can't get enough Hyundai? Don't forget to take a first look at the 2019 Hyundai Veloster N as well.