With the auto industry being especially unique when it comes to releasing dates and announcements, the 2020 Jeep lineup is far from being fully introduced. With a lot of speculation on certain features, the Gladiator is the only current 2020 model that we have a full spec list for. Other models are said to be very similar to 2019 except for the Wrangler.
When discussing reliability, the longer a model stays in production, the more it is tweaked and perfected. We can expect this benefit from 2020 models that have been carried over. Without further ado, I bring to you, the most up to date info on the new Jeep Lineup.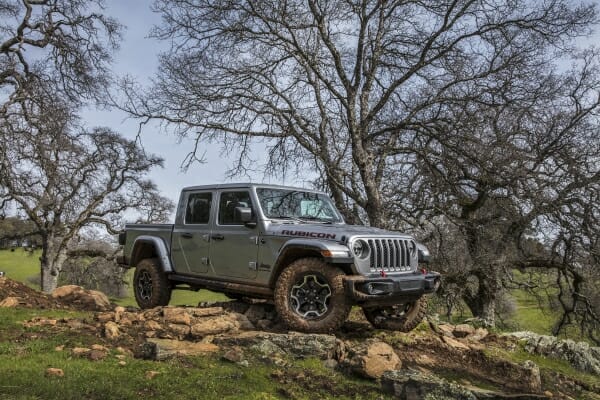 Gladiator ($33,545 – $43,545)
It's a Jeep, it's a truck, it's the Gladiator! Without a doubt, saluting to the 1984 Comanche, Jeep has created a new competitor in the mid-size truck game. With a 7,650 pound towing capacity and a 1,600-pound payload, this truck is ready to put in the work. Equipped with water fording up to 30 inches, two advanced 4×4 systems, and 11.1-inch ground clearance, this Jeep is ready to play even harder.
Combining modern comforts with rugged style, the Gladiator sports an 8.4-inch touch screen with Apple Carplay and Android Auto. With 38.3 inches of legroom in the back, even your tall friends can enjoy all the fun this truck has to offer. Don't forget about the lockable storage and portable Bluetooth speaker back there as well. With pitch and roll data as well as coolant, oil, and transmission temperatures, this truck is built for getting off the road. Whether you prefer a city street or a dirt road, the Gladiator is just plain fun.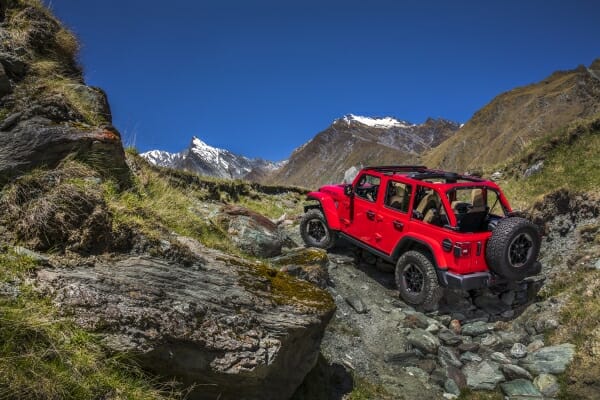 Wrangler (prices undisclosed)
For the most part, the Wrangler will remain unchanged in 2020. It will still feature two engine options. One is the 3.6L V6 that gets 17 city and 25 highway mpg. For more city efficiency, you may opt for the hybrid assisted 2.0L turbocharged 4 cylinder engine that gets 23 city and 25 highway mph.
The Wrangler series is sticking with the classic aluminum doors, a fold-down windshield, hard or soft tops, and the conventional seven continent grill. It's also available in the Sport, Sport S, Rubicon, and of course the Moab. Since this model is tried and true, we expect another year of solidifying its inherent success.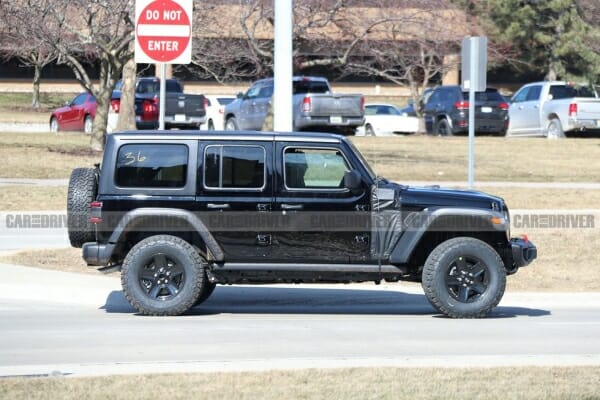 Wrangler Plug-In Hybrid (prices undisclosed) 
It's not a big surprise that the Wrangler will be equipped with a plug-in hybrid option in 2020. After all, it is this model that spends the most time with mother nature, whether that be offroading, camping, or parked at the local trailhead. This is a clear stance that Jeep is taking to protect these natural places. We are anxiously waiting on details for this plugin model. For now, all we know is that it's coming. We can also assume that this iconic Jeep will be almost the exact same except for an extra battery with a port to charge it.
Having the plugin option increases efficiency, making it ideal for shorter/slower drives that won't need any gas. With electric cars becoming inevitable, Jeep has no intentions of falling behind these changing times.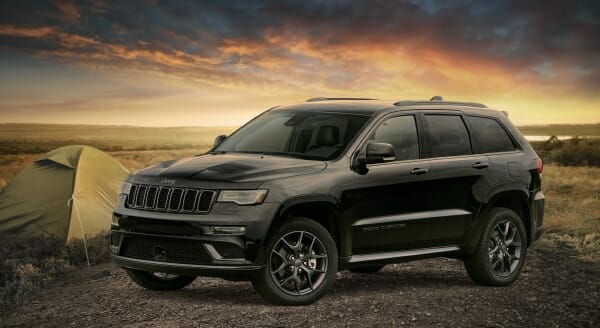 Grand Cherokee (prices undisclosed) 
It seems the significant changes in the lineup occur with the Wrangler plugin and the all-new Gladiator. Other models are going with the "if it ain't broke don't fix it" strategy for this year. The Grand Cherokee will still be the same spacious and feature filled vehicle with all of the tech you could imagine. This model will continue to intentionally bridge the gap between the luxury and off-road capable SUV world. It will receive an mpg of 19 city and 26 highway. Carrying over with the 3.6L V6 engine or the 707 horsepower Trackhawk, there are plenty of packages to choose from depending how fast you want to gallop.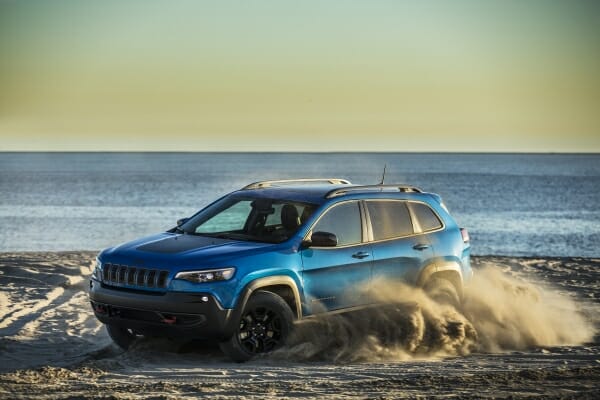 Cherokee (prices undisclosed) 
This compact SUV will stick with its modern and luxurious interior that hosts a 7-inch touch screen equipped with Apple Carplay and Android Auto. With advanced features, the Cherokee is still very off-road capable. It features industry standard LED headlamps and tail lights to see easily and far. Two engine options are remaining for the 2020 lineup. These will include the 2.4L 4-cylinder and for more power, you can opt for the 3.2L V6 with an MPG of 22 city and 31 highway. When looking for the most features in the compact SUV Jeep line, go with the Cherokee.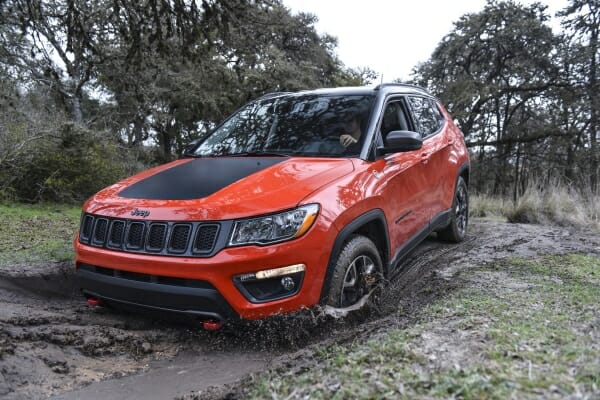 Compass (prices undisclosed)
The Compass will remain partial to the 2.4L 4-cylinder engine that gets 23 city and 32 highway mpg. With an upscale cabin, style is further enhanced with added packages. This model offers versions in front wheel or all wheel drive for mixed conditions or offroad. With front-wheel drive, the Compass starts to lean towards a more concrete environment rather than the trails. That being said, the Compass is still fully capable of mixed terrain and outings to the local trail.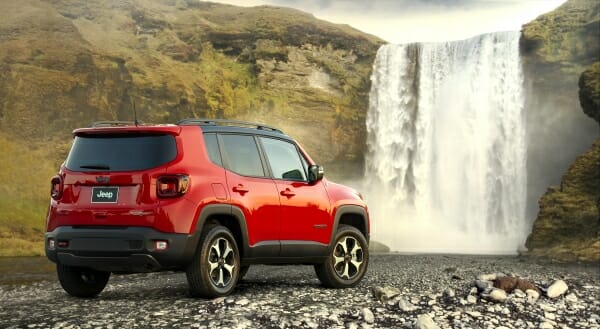 Renegade (prices undisclosed) 
As the most cost-effective model in the lineup, this is an excellent option for those looking to save money. Along with being reasonably priced, the Renegade is also the only subcompact SUV in the lineup. It is much more capable off road than any others in its class, but it also does really well maneuvering the city streets. For the price, the Renegade surprisingly has a rather high end looking cabin. You have two engine options which will either be the 1.3L or the 2.4L 4-cylinder engine with 24 mpg city and 31 highway mpg. For a well rounded and no-nonsense subcompact SUV, look no further than the Jeep Renegade.
What Excites You about the 2020 Jeep Lineup?
We would love to hear your thoughts about the 2020 Jeep lineup. Are you excited about a Jeep pickup truck, a hybrid Wrangler or will you stick with an unchanged Cherokee instead? Let us know what you think.