When you think of a full-size pickup, it's likely the Ram is one of the first three you think about. That's because we are trained to think of these vehicles in terms of the Ford F-Series, Chevy Silverado and Ram. They continuously compete against one another and attempt to outdo each other. That's why it's so exciting that we are going to see the Ram Heavy Duty pickup truck at this year's 2019 Detroit Auto Show.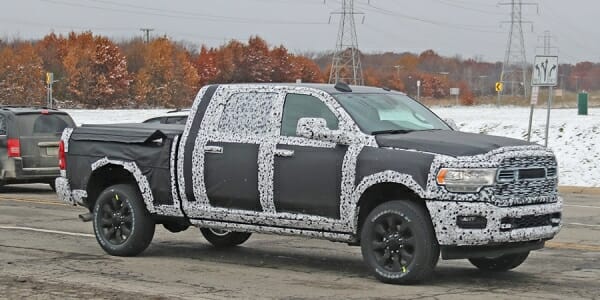 Ram Heavy Duty Pickup Specs
The auto world is filled with excitement about the Ram Heavy Duty pickup. It ranges in price from $32,000 to $57,000 for the top of the line model. In addition, the Ram comes with a 48-volt mild hybrid system which is going to boost the fuel economy.
Did you know that 1/4 of all the pickup trucks sold are heavy-duty models? These can tow and carry larger loads, so they aren't just for personal transportation.
Two years ago, Ford held the market with 38% of full-size truck sales thanks to the F-Series. Following right behind you see the Silverado combined with the GMC Sierra sales at 34% of the market. Then, Ram held the third place, but by a considerable difference at just 21%. To gain more traction, something had to change.
The New Ram
The new Ram features a complete redesign. It looks much more like a big rig and dominates the road with a sophisticated appearance. They also removed the cross-hair grille. Spy photographers grabbed some photos of the camouflaged three-quarter ton HD Ram. It's sure to be a hit with ranchers, farmers and others in need of heavy-duty towing.
While FCA won't confirm that the Ram Heavy Duty pickup truck will be at the Detroit Motor Show, there's enough buzz to assume it's coming. We also expect that the new model will be available in March of this year. Of course, this is just one of the big releases happening from FCA – we also have the Jeep Gladiator to be excited about.