Finally! We have more to rely on than teasers and leaks. The 2020 Toyota Supra has been revealed and it's everything we've hoped for. Sure, it's technically a BMW underneath, but now it comes complete with a turbocharged inline-six engine, rear-wheel drive and some aggressive styling.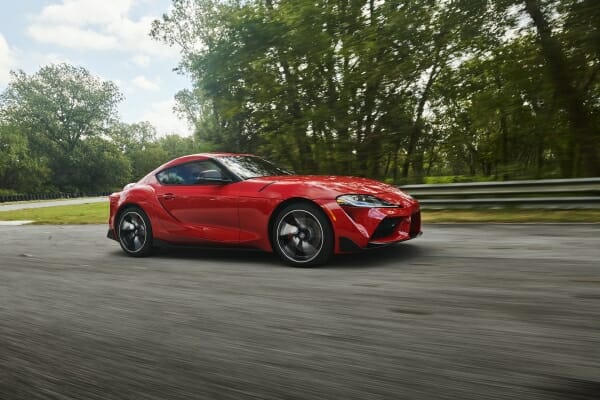 2020 Toyota Supra
Here are the critical details you want to know about the 2020 Toyota Supra. It's going to pump out 335 horsepower and 365 pound-feet of torque. It comes with an eight-speed paddle shift automatic transmission and hits 60 mph in 4.1 seconds. The top speed is 155 mph and it weighs 3,397 pounds.
Yes, it's slightly less powerful than the 2019 BMW Z4 despite the fact that it shares the same engine and platform, but the pricing is better. If you've been a fan of the Toyota sports cars, you'll prefer this over the BMW any day!
For a base model, you'll spend $50,920. If you upgrade to the Premium, you are looking at $54,920 instead. This gives you access to the 12-speaker JBL audio system, leather seats and a head-up display. The Toyota Supra Launch Edition is $56,180, but only 1,500 cars will be produced. This model contains a red leather interior and red accents.
Driving the Supra
The new Supra is unlike what we've seen before. This time, it's a two-passenger vehicle just like the Z4. In addition, it comes with iDrive (since it is a BMW). Because of the lighter and smaller size, this car is all sports car. The bigger question is going to be – will this drive like a BMW or will it be its own beast.
Hopefully, we can find out for ourselves soon enough.
If you want more coverage from the 2019  Detroit Auto Show, make sure you stay posted to Car Blog Writers for all the latest news. In case you missed it, check out the 2020 Lexus RC F and Track Edition, which is also from the Toyota brand of vehicles.