Originally, we were told that Ford was leaving the sedan business altogether, but recent news might suggest otherwise. There have been many rumors circulating that Ford might backpedal slightly on their "no car" rule. This time the news comes from Mustang6G who Ford executives were recently redesigning the word "sedan" and teasing with a 4-door Mustang.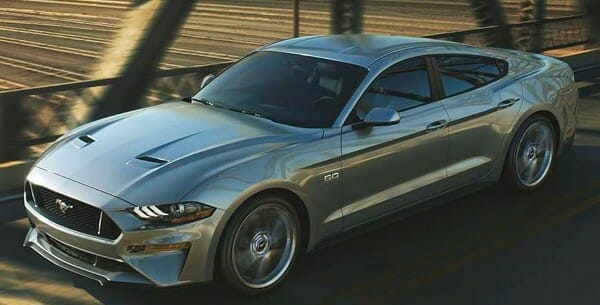 Will There Be a 4-Door Mustang?
At first, Ford claimed there would be no more sedans produced. We dealt with that and understood. Then, we were told that there was going to be an exception made to continue producing the Ford Focus. They claimed it would have more of a crossover design, so therefore it wasn't a sedan anymore. We get it; if you squint hard enough a sedan can look like a crossover – good plan.
Now we hear that they might not leave sedans entirely after all. Instead, they are flirting with the idea of producing a 4-door Mustang. Executives want to produce the 4-door Mustang to compete with the Audi A7 and Porsche Panamera.
If they move forward with their plan, the Mustang would feature the same 5.2-liter V8 engine that's found in the GT. They would have to step up their game slightly because the Panamera Turbo Sport Turismo (say that five times fast) has a 4.0-liter twin-turbocharged V8 engine that produces 550 horsepower. Considering the 5.2-liter V8 already produces 526 horsepower, some turbocharging should be all it needs to take on the Panamera.
In Reality
We don't know anything yet; everything is pure speculation at this point. While we wait, we expect some word soon that Ford changed their mind about getting rid of the cars. Maybe they didn't receive the overwhelming response to that news like they expected.
While we're discussing the Mustang, did you check out the Ford Mustang Series 1 at SEMA? It's pretty hot