In today's world, it makes sense that every automaker out there continues to progress forward to new innovations. That's why we aren't surprised to see GM working on a new set of wheels. The American company plans to partner with Michelin to develop airless tires. These non-pneumatic tires are for use on both cars and trucks. Let's get a closer look at what this invention means for automobiles of the future.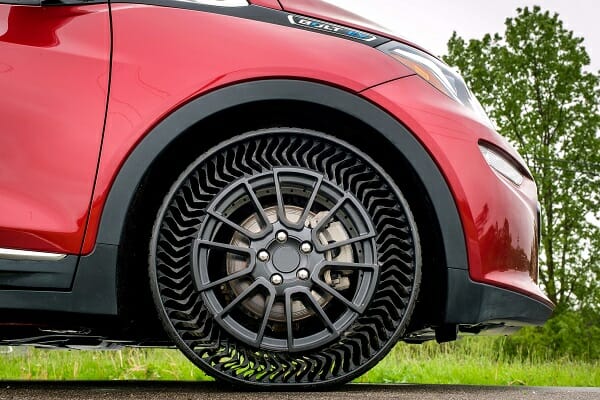 Airless Tires Coming Soon
The new tires feature the code name Uptis. That stands for Unique Puncture-Proof Tire System. It is constructed of a flexible composite matrix that replaces the typical air chambers. This material bears the vehicle weight while also absorbing any surface imperfections.
The main advantage of this technology includes a reduced chance of blowouts. Furthermore, the tires don't wear as quickly because improper inflation is no longer an issue.
Right now, Michelin already provides a similar product. Their "Tweels" fit ATVs, skid-steers and lawnmowers. GM will be the first automaker that partners with them to modify the technology for on-road usage.
Coming Soon to a Vehicle Near You?
Michelin states their tires weigh less than a standard run-flat version. With the new wheel and tire combination, drivers shouldn't notice a difference in the vehicle's performance.
GM prepares to start real-world testing of the product. The first vehicle to gain this technology is the Chevy Bolt EV. By 2024, it might also be factory equipment on the model. We still aren't sure what pricing will look like for the new setup, but imagine it might increase the base cost slightly.
What do you think of this step? Would you be willing to drive tires without air in them? We've previously told you about using nitrogen in your car tires, so we wonder which you are more apt to do next. Leave us a comment letting us know if you think GM is crazy or brilliant.