The purpose of driving a hypercar is to experience full speed and maximum performance. To accomplish this, more automakers seek to find ways to lessen the weight of the automobile even further. Even the new Aston Martin hypercar got rid of its dashboard touchscreen to also reduce weight. The AM-RB 003 hypercar doesn't offer navigation or dashboard controls unless you use your smartphone.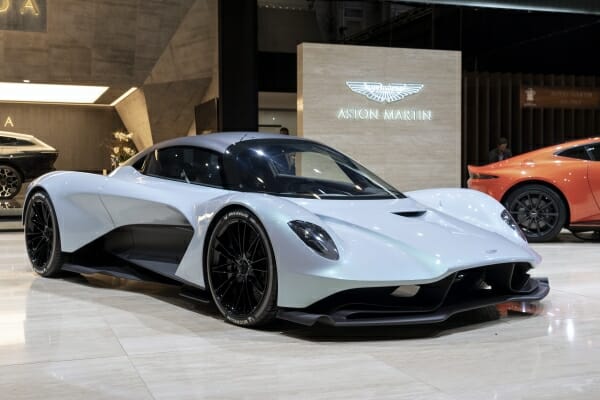 Aston Martin Hypercar Technology
Considering there will only be 500 people that own this car, we aren't sure anyone will care. They will just be proud to drive their high-powered Aston Martin and show off their opulence. Of course, we don't know how fast this supercar can go because the company hasn't shared any specs yet.
It will launch in 2021 and be powered by hybrid turbo V6 engine. It will also have tech features taken from the F1. Of course, electric technology is changing the hypercar game. We have the Rimac Concept Two which will push out 2,000 horsepower. The Pininfarina Battista comes in just shy at 1,900 horsepower plus we have the Mercedes-AMG Project One and McLaren Senna coming as well.
Features of the AM-RB 003
While the Aston Martin Valkyrie produces 1,100 horsepower, it also has an insane level of downforce. That's what we will see with the newest Aston Martin hypercar as well. Instead of utilizing a giant rear spoiler, it will have a morphing wing. The tech is referred to as FlexFoil and it was created by FlexSys. This company also developed this technology to use on airplane wings.
Further efforts to lessen the weight include a 3D-printed center console. While we aren't sure what to make of the smartphone mounted display, we can only hope that it holds the phone tightly. Especially considering this car is going to travel at mind-blowing speeds.
Don't forget to check out our picks for the Top 10 Best Supercars of 2019.