The time has come to take a look at the Aston Martin Rapide E. It's been four years since the all-electric Aston Martin model was first introduced and now we get to see it at the 2019 Shanghai Auto Show. While we don't have a price yet on this vehicle, we do know that only 155 of them will be produced.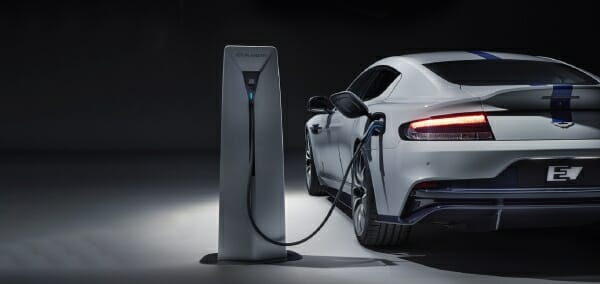 Aston Martin Rapide E Specs
This Aston Martin comes powered by a 65kWh, 800-volt battery. Estimates indicate a travel range of more than 200 miles. The twin motors are mounted on the rear axle and generate 450kWh, equal to more than 600 horsepower. This gets the electric car to 155 mph. Expect to reach 60 mph in just less than four seconds.
This EV comes equipped with an eight-inch display on the center of the dash and a ten-inch digital instrument cluster. Support is provided for Android Auto and Apple CarPlay technologies as well.
You will notice that the Rapide E looks a lot like it's combustion engine counterpart. Of course, the electric blue accents on the brake calipers and headlights are different. Unlike Tesla, there isn't a floor of batteries. Instead, the system is located where the engine would have been.
Where Has It Been?
We first heard about this model back in 2015. To make it happen, the automaker needed some funding from China. At the time, LeEco, a Chinese tech conglomerate announced a partnership on the project. But then, in 2017, LeEco pulled out of the deal.
That's when Aston Martin looked to Formula One engineering house Williams to bring the car to market. If you remember, Williams helped create the batteries for Formula E electric race cars. The Rapide E comes out of South Wales in the village of St. Athan. In fact, the automaker calls this facility the "Home of Electrification." It should be interesting to see what other vehicles make their way out the doors.
Love electric cars? Don't forget about Drive Electric Earth Day – happening soon.