We just caught a glimpse of the Bentayga V8 Design Series SUV for the first time. This special edition is sportier than the regular V8. It's completely customizable and has been restyled with an updated exterior. We don't know the cost yet but anticipate it to be much higher than the standard V8, which currently sells for about $178k.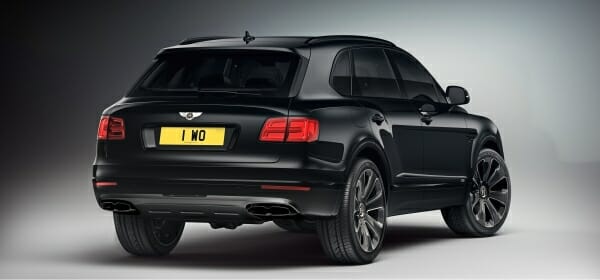 Bentayga V8 Design Series SUV
What's most notable occurs inside the cabin. This Bentayga V8 also has a carbon fiber weave created just for this SUV. It also includes a diamond-jeweled Breitling clock, drilled alloy sports pedals, illuminated treadplates plus seats trimmed with black Beluga leather.
The Design Series exterior comes complete with the Blackline package. This includes the twin black gloss exhaust tips, body-colored front apron, many black alternatives and an enamel badge. You also notice the seven-spoke alloy wheels and Mulliner wheel badges.
View this post on Instagram
Under the hood, it's powered by a 4.0-liter twin-turbo V8 that pumps out 545 horsepower and 568 pound-feet of torque. This helps it to achieve a 0-60 mph time of 4.5 seconds and hit a top speed of 180 mph. If you want to go faster than that, consider the Bentley Bentayga Speed instead. It also claims 21.7 mpg.
This Bentley SUV also comes with LED headlights, panoramic roof, dark taillights, electronic differential lock, valved exhaust system, customizable drive modes plus adaptive air suspension. It even comes with Apple CarPlay which is operated through the touchscreen.
Uniquely Yours
What's most impressive about the Bentayga Design Series V8 SUV is that it comes in 100 varying customized colors. You can choose some fun colors such as Centenary Gold to help celebrate Bentley's anniversary.
Let us know your thoughts? Would you invest the extra money for this special edition Bentley or are you content to own the standard model?