In an unexpected situation, a fire destroyed MotoE electric motorcycles last week when the garage that housed the bikes burst out in flames. In total, 18 bikes were involved in the fire, and they are all a total loss.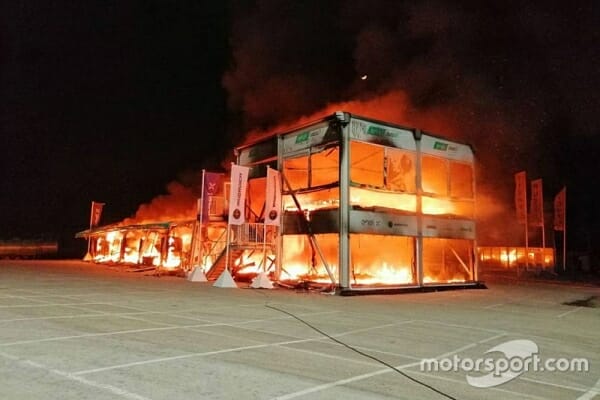 MotoE Electric Motorcycles Disaster
If you don't know about MotoE, it is the equivalent of a MotoGP race. FIM sanctions MotoE. You might know it officially as the FIM Enel MotoE World Cup. This racing series supports 18 drivers across 11 teams.
These electric sports bikes are modified Ego motorcycles provided by the Italian sportbike manufacturer, Energica. The inaugural season was to start this May, at the same time as the MotoGP. At the time of the fire, all 18 bikes were in Spain at the Jerez Circuit for a second full test before the season starts.
This fire struck in the garage space used temporarily by all 11 teams. Now that this fire hit, the season might be over before it can begin.
Reports suggest the fire destroyed all 18 bikes. In addition, the fire ruined all of the teams' tools, gear and laptops. Thankfully, there were no injuries, so that is a blessing.
These Energica Ego electric bikes were only for this series. Because of that, we don't know if another 18 bikes will be produced in time. After all, it is only a month and a half away.
Electric Bikes
Personally, we love anything related to electric-powered bikes around here. Our interest has been sparked by the recent Fuell eBike and the Harley-Davidson electric motorcycle. We also can't wait to see the MotoE races. We understand the disappointment at the setback
Energica doesn't feature a lot of production, but neither does any electric bike manufacturer at this time. We hope they will be able to replace the bikes in time, but it doesn't look hopeful. Let's also hope that it wasn't the battery packs that started the fires.
There are lots of possibilities of what could have happened, so we don't want to speculate yet. We will be sure to update this post as more information becomes available.