We've just seen some new interior images of the BMW i4 electric vehicle. We expect the i4 to enter production in just a couple of years, maybe for the 2021 BMW lineup. This all-electric 372-mile range vehicle expands the automaker's portfolio and is part of the reason they are performing a $225 million renovation on their Munich factory.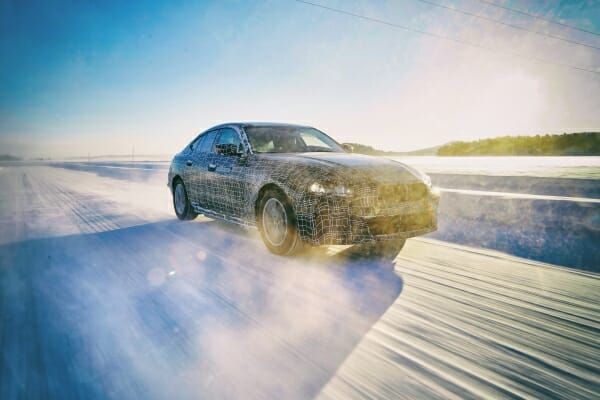 BMW i4 Electric Vehicle Details
We previously saw images of the i4 prototype with camouflage. It was undergoing testing in the Arctic Circle with the iNext and iX3. We spotted that the i4 featured a similar style to a 4 Series Gran Coupe.
Furthermore, it features a side-by-side digital instrument display plus infotainment screen. This allows customers to stay with the existing design as a combustion engine BMW. The ultramodern designs come in the iNext, level 3 autonomous vehicle instead. That will also be in production for 2021.
This vehicle will feature the CLAR platform which is highly adjustable. This platform accommodates electric, plug-in hybrid and combustion powertrains for maximum versatility. We expect battery packs to range from 60 to 80 kWh. In addition, rear-wheel and all-wheel drive variants will be available. It also hits 60 mph in just about four seconds.
The i4 and the iNext will both be produced at the company's Dingolfing plant. BMW also plans to release the iX3 next year. This SAV comes with 5th generation e-drive technology and a 250-mile range on a single charge.
BMW Electric Vehicles
BMW's first electric vehicle was the i3. This city car debuted in 2013. It was their first mass-production EV with a carbon-fiber construction. The BMW i8 is their first hybrid sportscar with a mid-engine. It was released in 2014 and features an inline-three engine.
We would love to hear your thoughts about the new BMW i4 electric vehicle. Let us know what you think about the newest electric lineup.