BMW is on a mission to please all consumers. That's why they've been working hard on building an entire lineup that suits every person's personality and lifestyle. With the popularity of SUVs, it makes sense that they would release the X7. Even CBS says that SUVs make up almost half of new car sales. This three-row beast opens a new chapter for the German automaker so they can get in on the action as well. Let's take a closer look at the brand-new 2019 BMW X7 SUV.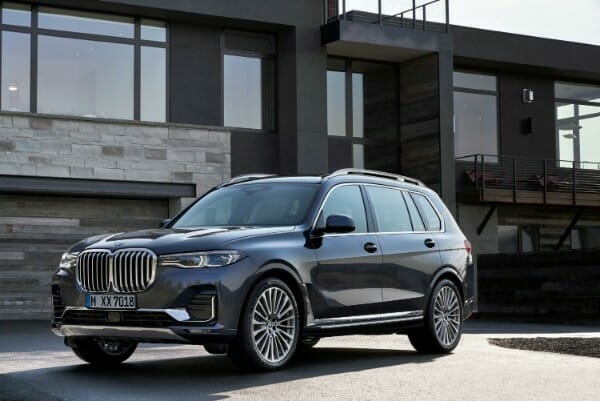 The All-New 2019 BMW X7
The 2019 BMW X7 relates to all the rest of their SUV lineup, but it takes things up a notch. First, it features a dual-axle air suspension system that allows for superior ride comfort and selectable ride height. In addition, the X7 comes standard with Dynamic Damper Control which offers the ability to cover up any rolling feeling when the roads get unkind.
While this SUV doesn't resemble anything close to an M3, it sure does offer the illusion of the same performance. There are two engine options available to drivers. The turbocharged 3.0-liter inline-six provides 335 horsepower plus 330 pound-feet of torque. There's also a twin-turbocharged V8 engine that delivers 456 horsepower plus 479 pound-feet of torque. The X7 equipped with a V8 engine hits 60 mph in 5.2 seconds; not too shabby for an SUV. Then, when you're in a hurry to get the kids to soccer practice, you'll come to love the quick-shifting eight-speed automatic transmission that's paired with it.
Comfortable Ride
It's true that your kids likely won't care about how fast it moves, but they'll be big fans of the comfort inside. The X7 features lots of luxury, especially in the rear seats. You can opt for captain's chairs in the back if you wish. While this reduces how many people can come aboard, it does offer some additional seclusion and comfort. If you want a more spacious feeling, make sure you also upgrade to the full panoramic roof panel as well.
The starting price of the 2019 BMW X7 is $73,900. This comes equipped with the six-cylinder engine and some standard features. From there, you can add on your special features such as the full suite of safety technology and laser headlights. If you prefer the V8, prepare to put out a minimum of $92,600. While this might seem a little steep for a family SUV, we expect the X7 to roll out of dealerships at record speed.
We'll have to wait and see if the 2019 BMW X7 SUV comes equipped with the BMW Intelligent Personal Assistant.