Tesla sure has made a lot of news lately. From the Tesla crash this past week to the updated Version 9, we've had a lot to report. Now, we received word that the company plans to abandon Tesla retail stores to grow their online business instead. The primary goal is to lower the price and compete with other EVs in the market. Surprisingly, it comes at the same time that Tesla announced plans to release the Model 3 sedan this month at $35,000.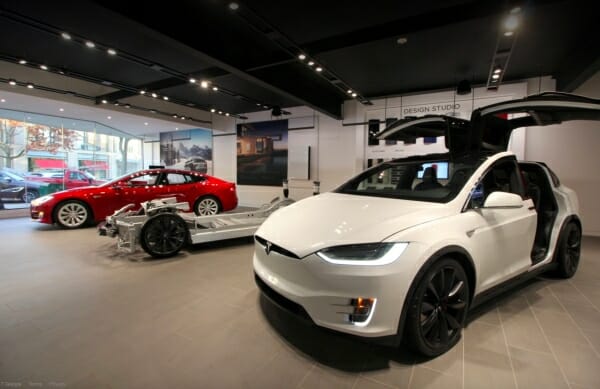 Future of Tesla Retail Stores
During the next few months, the retail locations for Tesla will be winding down. Some of the high-traffic stores plan to remain as galleries, information centers and showcases.
All sales will shift online to lower vehicle prices and reduce costs. On average, this move is expected to drop the price of Tesla vehicles by 6%.
Of course, this comes after long battles with franchised dealers and states who claim the factory-owned stores were prohibited by law. Up until now, they have operated about 120 stores in the United States. Many of these are in shopping centers and malls. Even though customers could get information, look at the vehicles and test drive them, the ordering has always been done online.
We had told you about the Tesla 5-Minute Buying & Delivery Program and that's what the company is moving toward. In fact, they plan to roll out this program worldwide. If anyone can be successful without a physical presence, it is Tesla. Just look at how familiar the Amazon name is even though there was very little in the way of physical locations until recently.
Buying a Car Unseen
To alleviate some concerns, Tesla is offering a new 1,000-mile, seven-day return policy on their vehicles. This gives you time to try it out during a weekend road trip and make sure it's for you. Is that enough to make you want to buy one or are you concerned at the lack of Tesla retail stores? Let us know in the comments.