Before the 2019 Detroit Auto Show even began, Cadillac surprised the media with a look at their electric crossover SUV. This new Cadillac electric SUV might also be the first of many to come, but we don't have too many details on any aspect of it yet.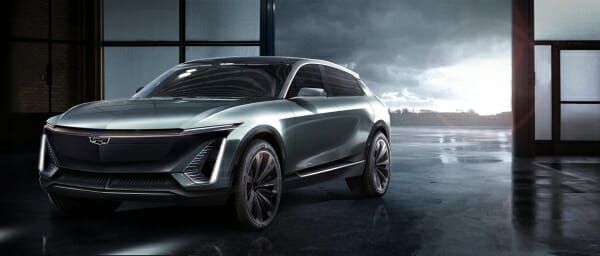 Cadillac Electric SUV
It wasn't that long ago that General Motors announced that Cadillac would become the leading brand for electric vehicles under their hat. That's why it took everyone by surprise to see the first EV unveiled so quickly. Of course, they still only revealed renderings of the electric crossover at this point and a few specs.
We don't yet know the name, powertrain or range details. What we do know is the GM's BEV3 electric platform is the basis for all front- rear- and all-wheel-drive configurations. We will see this underpinning of many GM vehicles of the future.
We also know that Cadillac is planning a complete overhaul of vehicles. It's started with the XT6 crossover, which was revealed before the auto show. The automaker also plans to debut six new models over the next few years – one every six months. This should include a new performance sedan and next-generation Escalade. We aren't sure yet how many of them will be plug-in electric models, but we are excited to find out.
More Electric Vehicles Coming
There is going to be a massive flow of new additions to the electric vehicle lineup over the next few years. That means the Cadillac electric SUV needs to step up its game if it's going to compete. Between Audi, Mercedes and BMW, there are already a lot of luxury players entering the market.
We are interested to see who is going to come out on top in 2019. What automaker do you think will create the best electric vehicle?