It's no surprise that Domino's is on the cutting edge of technology – as far as pizza makers go. Now, the innovations move a step further, into people's cars. Domino's in-vehicle ordering will be coming soon, thanks to a partnership with Xevo, Inc.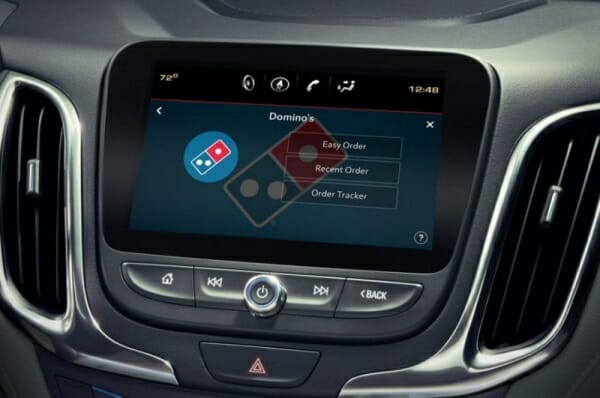 Domino's In-Vehicle Ordering
The new pizza ordering platform will be loaded into connected cars, beginning this year. It's estimated that nearly more than a million vehicles will have the capability. The partnership with Xevo, Inc. will extend into Hyundai and GM models to start.
Customers use the car's touchscreen to place and track their pizza order, from wherever they are. You can also use the software to locate your nearby location or call in your order through the interface. However you choose to order, you won't go hungry.
Future of Car Technology
Vehicles become more connected every day. Dunkin' Donuts and Starbucks have already joined in the race to get connected. It's expected that there will be more than 75 million vehicles produced with these connected screens by the time we reach 2024. How great will it be to order your favorite food and drinks while driving?
Domino's is no stranger to sophisticated technology. Over the past few years, they introduced mobile ordering through Amazon's Alexa, Google Home, and their advanced app. You can also get delivery to a location without providing an address.
Even still, Domino's better watch out. After all, they aren't the only pizza company looking to advance in this technology race. Pizza Hut recently partnered with FedEx to test out a robot that can deliver their pizzas. They also plan to enhance their existing delivery services and mobile app.
It makes sense to see companies jumping on the tech bandwagon. There are plenty of ways that new innovations can help them to become more productive and increase the bottom line. Just look at what IKEA plans to do with electric vehicle delivery.