A federal court recently ruled that marking tires for parking enforcement is similar to entering property without a search warrant. This rationalization allowed them to declare the practice as unconstitutional currently in Michigan and several other states. Chalked parked tires were a recent occurrence for Alison Taylor and the reason that the court took a look at the practice.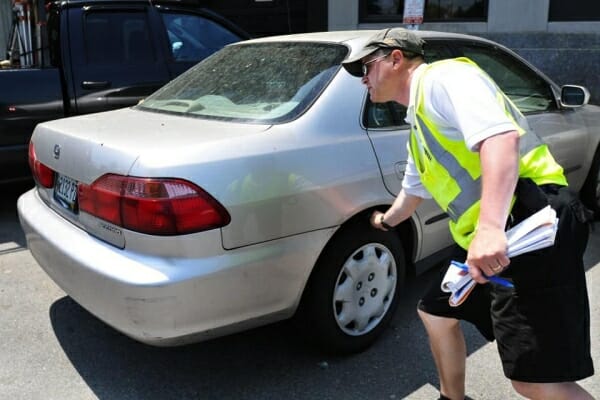 Court Case
Alison Taylor received over a dozen $15 parking tickets in Saginaw. They resulted from exceeding a two-hour limit. In Saginaw, the city keeps track of parking times with chalked parked tires. Taylor's lawyer argued that the officer in charge of parking patrol violated her Fourth Amendment rights against unreasonable searches.
The 6th U.S. Circuit Court of Appeals stated that marking tires was designed to raise revenue, not protect people from risk. The court also determined that cities shouldn't deter drivers from exceeding time limits before they occur.
This decision applies to Ohio, Tennessee, Kentucky and Michigan because these are the states covered by the 6th Circuit. This ruling also overturns Judge Thomas Ludington's original opinion. The U.S. District Judge ruled in favor of Saginaw.
The lawyer argued that marking tires was also similar to police secretly installing a GPS device on a car without a warrant. This too was the subject of a Supreme Court ruling in 2012.
While the lawyer agreed that parking doesn't need to be free, he also feels that Saginaw's process is unconstitutional. In fact, several people in the city had their tires chalked while still sitting inside the vehicle.
Chalked Parked Tires Class Action Lawsuit
This case returns to Bay City federal court. The plan is to certify it as a class-action lawsuit to gain refunds to people that got tickets. Since Saginaw collects $200k a year in parking tickets as a result of chalked parked tires, that could be a massive loss for the city.