With the Fourth of July arrival, it shouldn't surprise anyone that some dealerships would hope to market to patriots. That's just what one Alabama car dealership plans to do by giving away a free shotgun, Bible and an American flag with the purchase of a vehicle.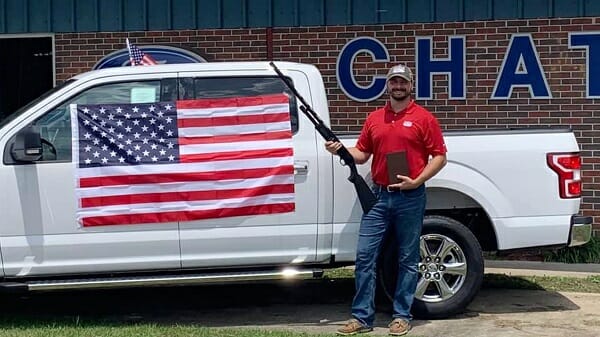 Freebies Galore
Chatom Ford, located in Chatom, Alabama planned to give away a 12-gauge shotgun, an American flag and a Bible with every purchase of a new or used vehicle. It is part of the Fourth of July promotion happening through July 31st.
The dealership went viral with their "God, Guns and Freedom" campaign. Koby Palmer, the dealership's GM cocked his rifle in a promo releasing the news online. He stood in front of a pickup holding the American flag on its tailgate.
For the promotion, the dealership worked with firearm dealers in Mississippi and Alabama. The dealership planned to give each new car owner a certificate that could be exchanged at the firearm location. Then, a background check would commence and they could get their gun, free of charge.
Legal to Give Away a Free Shotgun?
While it won't cause much controversy to give away a free flag or Bible, what has people most upset is the free shotgun. At the request of consumers, Ford Motor Co. requested that the dealership stop the promotion immediately.
So, that's the end of that. No longer can you score a free gun by purchasing a vehicle. With that said, you can still get the flag and Bible if you wish. The company is also offering a free $200 gift certificate for "whatever you want." While we are unclear what that means right now, we are sure more information will be posted soon.
What are your thoughts on this promotion? Would you have purchased an F-150 from them just to get a gun or does hearing about this offer disgust you? Let us know your thoughts.