The time has come to take a first look at the 2020 Chevrolet Silverado HD. We don't know everything yet, but we've learned quite a bit about the new Chevy truck.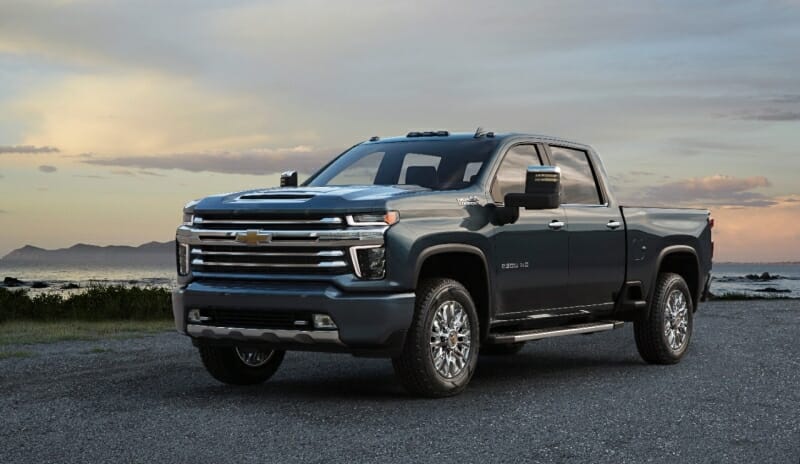 2020 Chevrolet Silverado HD Details
This year, the Chevy Silverado 1500 received a redesign while the Silverado HD waited another year.
We expect to see the Silverado HD this February, but in the meantime, we do have some details. It will be built in Flint, Michigan with many of the other GM trucks. With that said, this pickup won't be anything like it's 1500 little brother.
The 2020 2500 Z71 will feature a big scoop which clearly means it's ready to get to business. What kind of activity will this truck be able to handle? We don't know yet. The automaker is being super quiet about the details.
As far as the exterior of the Silverado HD, everything will be brand-new. It will have an updated front fascia, new headlights, new hood, updated bumper and modern grille with a crossbar highlighting the word "CHEVROLET." On the sides, you'll find new mirrors and an innovative bed step. As we move to the rear, it features an updated bumper, tail lights and tailgate.
The only thing that's similar to the Silverado 1500 is the roof. Otherwise, it's unique and wonderful all by itself.
As far as power options, there will be two choices. One is a "new gasoline engine" paired to a six-speed transmission. The other is the Duramax V8; probably the 6.6-liter diesel that outputs 445 horsepower plus 910 pound-feet of torque, but we aren't sure about that yet either.
While we do know that the HD will come with an increase in payload and towing capability, we don't know much about that yet either. The company has been very secretive up until now. What's most interesting is that they happily told the media that the features and technology of the truck are geared toward heavy-duty customers. We can't wait until February to learn more.
What Else is New With Chevy?
Not that long ago, we also told you about how the 2019 Chevrolet Silverado 1500 was rated by EPA. We also showed you the two special editions created for the Chevrolet Colorado. All this news paired with the latest 2020 Chevrolet Silverado HD shows the company is moving in the right direction.