Great news for truck fans – the Chevrolet Silverado 4500HD, 5500HD and 6500HD chassis cab pickups are coming to dealerships for the first time ever. That's right, the Silverado trucks are in production and making their way to dealerships as we speak.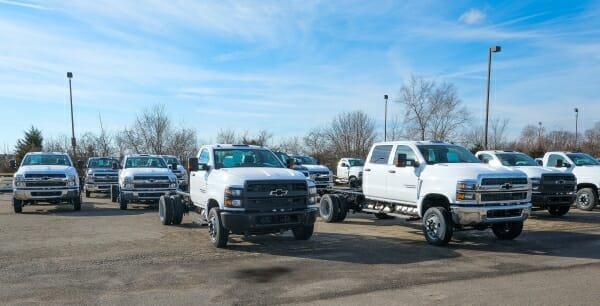 Chevrolet Silverado 4500HD, 5500HD & 6500HD
We first saw the trucks at the 2018 NTEA Work Truck Show. They are designed to be customer-focused and take on all the major competitors. This medium-duty pickup truck lineup helps GM's commercial business to set a record year. They expect double-digit year-over-year sales.
This lineup of Chevy pickups is what customers have been waiting for. Fleet managers, technicians, dealers and truck drivers have all been waiting for GM to pull it together. This lineup is simple to upfit, easy to service, fun to drive and available to you!
Upfitters remain especially happy because the straight, clean frame rail contains no rivets, welds or brackets which could get in the way.
Chevrolet Configurations
These trucks come with seven various cab-to-axle lengths, ideal for anyone in the construction, utility or landscaping industry. On top of that, fleets now can use Chevy for all their business needs since they still offer a wide selection of sedans, trucks and crossovers to choose from. This provides a one-stop shop for business account holders.
Of course, this isn't all that's happening in Silverado world. We've also reported on some of the other models coming to dealerships near you. The Chevrolet Silverado 1500 now has a DuraBed and the best-in-class cargo volume with every bed length. It's also available with 12 fixed tie-downs.
The Chevrolet Silverado 2500HD and 3500HD both feature new trailering equipment, increased payload capability and an immense amount of increase in towing ability. These Chevy trucks feature the latest technologies and are just what the new truck owner has been looking for.