Chevron and EVgo are partnering up to make electric car charging more convenient than ever before. Their plan is to install charging stations at Chevron locations. With the gas stations already having other amenities such as bathrooms, mini-marts and shelter from the rain, this makes stopping off to charge up more comfortable for EV drivers. EV stations are often constructed in the middle of nowhere. This leaves no facilities or a dry place to get out and charge your vehicle.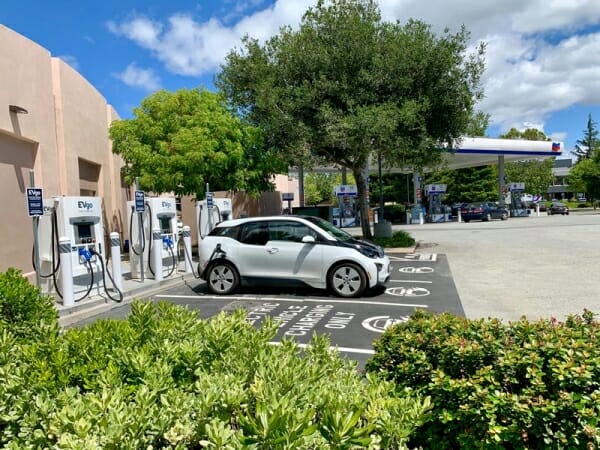 Chevron and EVgo Partnership
This partnership should work out really well for Chevron. All the EV drivers stop and wait for their vehicles to charge. This converts to more foot traffic and revenue for them. The customers will spend more time in the store with nothing else to do for 30 minutes. Unlike your gas customers that want to be back on the road as quickly as possible, the EV drivers will spend money buying items to pass the time.
EVgo says that as long as your car accepts DC fast charging you can get about 90 minutes of driving for every 30 minutes of charging. This means that each station has that customer for about 30 minutes while they wait for their car to charge. Gas customers spend about 10 minutes or less getting fuel. EV customers will be able to take their time knowing they cannot leave for about 30 minutes.
First Locations for Chevron Chargers
EVgo and Chevron are already on the bandwagon with these chargers and have them installed and operational in Menlo Park, CA. They are currently offering up to 100 kW of charging capacity. They are planning to expand starting in California and adding locations in LA, Venice, San Francisco, Aliso Viejo, and Manhattan Beach.
Hopefully, these stations won't have the same response as they did with gas drivers in Colorado.