It makes sense that Chevrolet would seek to grab some of the midsize crossover segment with their 2019 Blazer, but it turns out, they didn't price it very well. In fact, the 2019 Chevy Blazer price is higher than a good amount of competitors. We expect it to show up in early January, but we have enough information, for now, to give you a rundown of what to expect.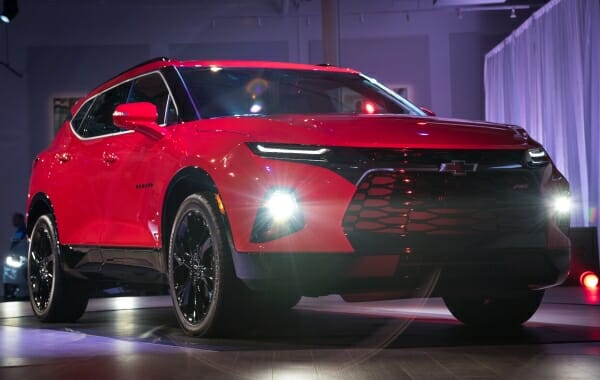 2019 Chevy Blazer Price
First, let's take a look at the varying trim levels of the Chevrolet Blazer. There will be four trims. The first is the L, then you have the LT which is just called Blazer. After that, you can opt for the RS or top-of-the-line Premier instead. The base L trim starts at $29,995. We don't know the pricing quite yet on the other trims, but obviously, they will be more.
Let's take a look at what a customer gets with the $29,995 price because it doesn't appear too far off the mark from the Ford Edge, Jeep Grand Cherokee or Nissan Murano.
Lack of Power
The Ford Edge is also priced at $29,995 for the base model. The difference is that the Edge comes with a turbo 2.0-liter I-4 engine which gives it a 52 horsepower advantage over the 2019 Chevy Blazer's naturally-aspirated 2.5-liter I-4.
We see the same thing happening with the Jeep Grand Cherokee and Nissan Murano. Both of them have slightly higher starting prices than the Blazer, but they also have V6 engines that produce far more power. While we haven't see the 2019 Honda Passport pricing yet, we can only assume it will be the same situation.
Price is Too High
Furthermore, the 2019 Chevy Blazer pricing is just too high when you compare it to vehicles that are equivalent. For example, the Hyundai Sante Fe and Kia Sorento are both lower in price. In fact, you can save more than $4,000 for the base model. They also come with comparable feature sets and similar styling designs.
Final Thoughts
With all these factors playing against it, we have trouble believing the 2019 Chevrolet Blazer is going to find success in SUV sales this upcoming year. You can spend the same amount and get far more with a Nissan, Jeep or Ford. On the other hand, you could spend less and end up with a completely comparable model. We don't know too many people that like paying more than needed.
What do you think about the 2019 Chevy Blazer price? Are you willing to pay more for this SUV? Let us know.
While we are talking about Chevy – did you see that Dale Earnhardt Jr. is driving the Silverado at the 2019 Daytona 500?