Car and Driver caught a glimpse of the 2021 Toyota Tundra testing near their offices in Michigan. What's interesting is how long Toyota has gone without a significant update to this fan favorite pickup. Let's take a closer look at what was noticeable in this new model.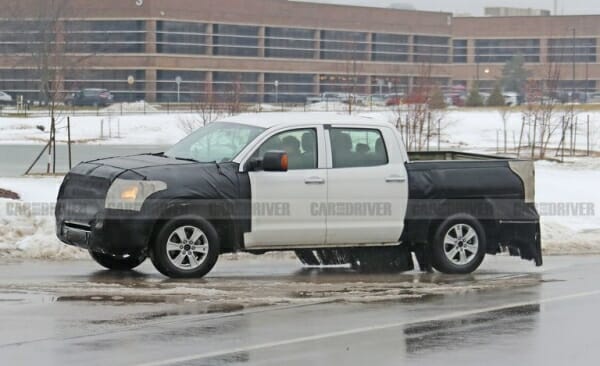 2021 Toyota Tundra
While we don't expect the body-on-frame construction to change, we do have to wonder what all the lower-body skirting is hoping to conceal. It could be that they are testing out an air-spring or coil-spring rear suspension in hopes of ditching the current leaf springs. Maybe they've learned from the Ram 1500 that this will create a more comfortable ride.
It's also possible that they are working on an independent rear setup, but that would reduce the payload capacity, so we don't think that's probable.
Currently, you can get a Tundra with a 4.6-liter or 5.6-liter V8. Both of these engines pair with the six-speed automatic transmission. There have been rumors of a twin-turbo V6 in the works. By 2021, we hope that Toyota might update the transmission to at least an eight-speed in the future.
Arrival and Pricing
We aren't sure yet if this Tundra will be ready for 2020 or 2021. Previously, Toyota debuted the Tundra during the Chicago auto show, but since that starts on February 9th, we can't expect them to be ready. The current model starts at $32,195 and that's just for the two-wheel-drive regular cab with the base trim. You can expect to pay closer to $52,000 if you prefer the Platinum trim and four-wheel drive.
Either way, a lot is happening at Toyota and enthusiasts love all the upgrades. We recently reported on the 2020 Toyota Supra which is set to make some waves in the future. What are you most excited about in the upcoming Toyota lineup? Let us know in the comments.