We know how much you enjoy Christmas, but how far are you willing to go to show your holiday spirit? You might have noticed some cars driving around with Christmas lights on their car, but is that going too far? In fact, just this past week while I was driving through Dallas I noticed several vehicles completely decked out with all the festive gear. Why should you decorate your car for Christmas and is it legal?
Let's take a closer look.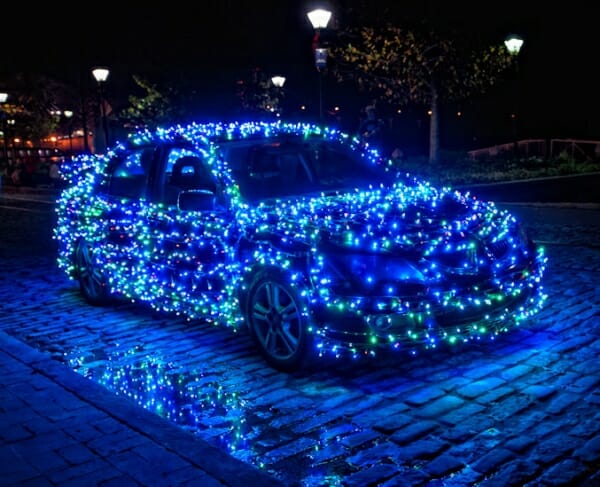 Ways to Decorate Your Car
Let's begin by looking at all the ways someone could decorate their car.
Reindeer Ears – If Rudolph didn't guide you home this year, how would you find your way. Merely clip these on your driver and passenger side of the car and you are ready to go. Want to make it even more fun? Don't forget that festive red ball for a nose.
Christmas Wreaths – Simply hang your Christmas wreath on the front of your vehicle. They come in many shapes and sizes so you can choose one that fits your personality. You could also make your own if you feel crafty.
Christmas Lights – People have taken the lights from their home and added them to their cars. You certainly can't miss that coming down the road.
Bow – Wrap your car up in the accessory that makes your vehicle look like a present.
Be Safe With Your Christmas Decorations
We aren't trying to stop you from having a good time this Christmas, we simply want you to make sure you are following all local laws. For example, despite seeing numerous cars with Christmas lights on them this week, I know it isn't legal in the state of Texas.
Officer Antoine from Port Arthur says it's only legal to use these lights in your car if it's parked in your yard or a lot. They aren't legal for use while driving on the streets. Of course, every state has its own laws. Make sure you do some research and avoid a Christmas ticket. We don't want you pulled over by the Chevy Bolt EV SSV.